#TougherThan


Tough Meter is a way of life at Klein. It is not worrying about keeping your meter clean and safe from the rugged nature of your work. It is a representation of getting the job done, despite whatever mayhem is going on around you. Tough Meter means your meter should be as tough as you are; withstanding scrapes and bruises is just part of the job.
Klein Meters Are

...
Join the conversation online


include #TougherThan in your posts


Select Klein meters feature an "IP" rating. IP or Ingress Protection ratings are published by the International Electrotechnical Commission (IEC) and used to measure the protection of enclosures around electronic equipment. The IP rating is determined by specific tests designed to infiltrate electronic equipment with both solid objects and liquids.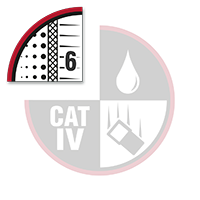 Solid Object Ingress Protection
Protection level against the penetration of solid foreign objects. The ratings range from 0-6 where 0 provides no protection through 6 which provides complete protection.
Level 6: Dust Tight - No ingress of dust; complete protection against contact.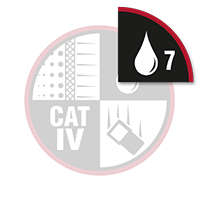 Liquid Ingress Protection
Protection level against the harmful penetration of liquids. The ratings range from 0-8 where 0 provides no protection through 8 which provides protection against long periods of immersion under pressure.
Level 7 - Up to 1 m / 3.3 ft: Water Tight - Ingress of water in harmful quantity shall not be possible when the enclosure is immersed in water up to 1 m / 3.3 ft.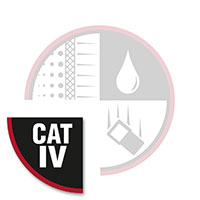 Category Safety Rating
Tough Meter is also about staying safe. Understanding the category safety rating is essential to choosing the best meter for the job. There are four safety ratings and each category has a working voltage of 600V or 1000V.
In order to help ensure your safety, Tough Meters are rated CAT IV 600V. Simply put, this is one of the highest rated meters on the market.
Why should category ratings matter to you?
You don't need to be a professional electrician to require a CAT IV meter. If you're taking a measurement and a voltage spike comes over the line, the engineered safety features of a CAT IV 600V meter will protect you from harm.
Category Safety Ratings:
CAT IV is the highest safety category rating. Any outside wiring that can be exposed to high current spikes, such as lightning, should utilize CAT IV rated meters when taking measurements. This includes any 120V lines located outside -- from the utility lines to the line energizing the light bulb in the backyard shed.
CAT III measurements are often taken when working with voltages on three phase equipment in fixed installations. It also is required when taking measurements in a residential electrical panel.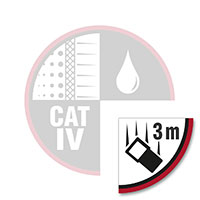 Drop Protection
To measure the drop protection of Klein Tools digital meters and electrical testers, a series of tests are performed in conditions far exceeding the UL/IEC standard. UL/IEC requires a drop of three feet onto a 50 mm thick hardwood board supported by rigid steel or concrete. By contrast, Klein Tools drop tests from 3 to 9.8 ft. onto a rigid steel surface. The MM500, for example, passed Klein's drop test of over 20 drops from 9.8 ft. without damage to the meter.
CAT II measurements are usually performed on voltages taken from a standard wall receptacle. (However, wall outlets within 30 feet of an electrical panel, should be measured with a CAT III meter.)
CAT I measurements are typically performed on voltages from electronic circuits.