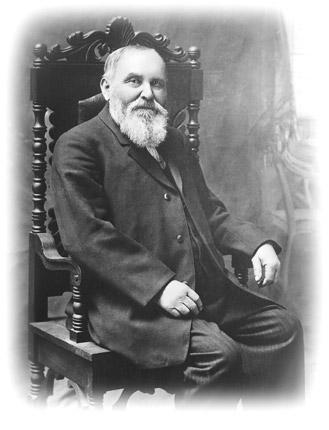 Since 1857, the company operated by Mathias Klein and his descendants to the fifth generation, has grown and developed along with the telecommunications and electrical industries where Klein pliers first found major usages.
Today, Klein Tools, Inc. represents much more than Klein pliers. The company's product line has broadened to include virtually every major type of hand tool used in construction, electronics, mining, and general industry in addition to the electrical and telecommunications fields. Klein Tools also supplies a line of occupational protective equipment, which is exhibited in a separate catalog.
Internationally, Klein's products are available around the world through a well-established network of agents and distributors who stock the products that are required for their particular markets. Klein's reputation as a leading producer of professional-quality products is global.
Like the industrial fields it serves, Klein Tools has grown dramatically since 1857.
1857 When Mathias Klein emigrated from Germany and made his way west to set up shop in Chicago's bustling downtown business district, the "communications industry" amounted to nothing more than a few bare wires strung on lean telegraph poles.
Perhaps the only job Mathias Klein ever did "halfway" involved the first tool he ever made, which was — in fact — one half pair of pliers. A broken side-cutting pliers was brought to his forge shop by a telegraph lineman. Mathias Klein forged and finished a new half for the tool, riveted it to the old, and the lineman went on his way. Shortly thereafter the lineman returned. The other original half of the tool had now broken and Mathias Klein forged the second pliers half, producing the first complete Klein pliers.
1860s Soon the Civil War demonstrated the importance of dependable telegraphic communication, and Mathias Klein prospered from the demand for durable hand tools for the professional tradesman. After the telegraph came the telephone, then the electric light. Electric power opened up new industries. Railroads opened up new territories. Mathias Klein's forge shop grew into a full-fledged business, a company making a worldwide, respected line of hand tools.
1910s As America expanded, the company grew with the growth of industry and its need for professional tools of all kinds. To the standard lineman's pliers were added more than 100 different types and sizes of pliers. Today Klein meets the needs of professional tradesmen with a whole spectrum of first-quality products.
1968 Klein acquired R. H. Burhke Company to meet the need for a line of occupational protective equipment, leather and canvas products.
1972 Through establishment of a Mexican subsidiary, Herramientas Klein, S.A. De C.V., the company produces tools and equipment that Mexico increasingly needs to expedite its ambitious programs of industrial expansion.
1975 Klein Tools erected a new, modern drop-forging plant in Moran, KS. The multi-million dollar facility provides the capacity to substantially increase forging production.
1978 The William Warne Co., a leather pouch manufacturer, joined the Klein family of companies.
1980 The company built its international Distribution Center in Cedar Rapids, IA. This warehouse utilizes modern material handling and shipment processing methods to expedite orders and shipments of Klein products. The continued growth of the business drove an addition to this facility in 1984. At the same time, Klein expanded the facilities of their Mexican subsidiary, Herramientas Klein, and also the tool pouch facility in San Luis, AZ.
1986 Klein acquired Vaco Products Company, of Jonesville, MI, a major manufacturer of screwdrivers, nut drivers, hex-key wrenches, electrical terminals and connectors, plus other related equipment. This acquisition expanded Klein's market coverage and added new lines of tools and supplies to the company's product line.
1989 A new plant in Roselle, IL, went into operation. Klein's adjustable wrenches, recognized as the world's finest, are produced at this new facility along with a number of other important Klein products.
1996 A new plant in Schaumburg, IL, was added to expand Klein's Chicago-area manufacturing capacity.
2005 KalFact Plastics, a plastics molding company out of Rockford, MI, is purchased and renamed Klein Plastics.
2007 Heritage Cutlery, of Bolivar, NY, was acquired by Klein and began operating under the name Klein Cutlery, LLC. Klein Cutlery is a leading manufacturer of hand tools and occupational equipment for professional tradesman.
2010 Mumme Tools became a sister company of Klein Tools, Inc in July 2010. Mumme, which is also a family-owned company, produces a wide-range of forged hand tools in South Australia and is Australia's leading mining tool manufacturer.
Klein, also, acquired a 50% equity position in UEi Test Instruments, a leading manufacturer of portable testing and measurement products for select HVAC/R customers.
2011 Klein opened the Advanced Manufacturing Technology Center in Mansfield, TX, adding to its growing number of US facilities. This newest facility is dedicated to the deployment of cutting edge manufacturing processes and advanced research and development.
2012 Klein acquired Civitella & Cia Ltda, a Brazilian equipment manufacturer, to supply a full range of products for the electrical, construction, oil & gas and telecommunications industries in Brazil, the sixth-largest economy in the world.
2014 Klein continued to invest in U.S. manufacturing with the opening of the Heat Treating facility in Mansfield, TX. The new facility allows Klein to keep pace with product demand, streamline operations to stay competitive and provide American jobs in advanced manufacturing.
Klein, also, jumped into the UK and Ireland markets with a significant financial investment and strategic partnership with Super Rod, a leader in wire installation tools.
2015 Klein expanded the Advanced Manufacturing Technology Center in Mansfield, TX.
2017 saw the acquisition of General Machine Products (GMP), a third-generation business owned and operated by the Pfundt family since 1936. GMP is a premier worldwide supplier of specialty cable placement tools and equipment for the utility, data and telecommunications markets.
2018 Klein acquired Minnesota-based Ergodyne, a leading innovator in on-the-job safety products including Tenacious Work Gear®.
Today, the Klein brand is the #1 preferred hand tool in the electrical industry, as well as one of the leading brands used in the maintenance, construction, and industrial trades. Loyalty to Klein Tools is strong due to Klein Tools' commitment to professional tradesmen; professionals feel the difference every day.
The world has come a long way since 1857. Klein has become a multi-million dollar manufacturer... yet a company still concerned about meeting professional needs - and making products to professional-quality standards.
Klein Tools is still owned and managed by the Klein family. Direct descendants of Mathias Klein are actively engaged in every aspect of the business. Its products are still sold through distributors who serve the professional tradesman. And Klein Tools still makes dependable, efficient, and durable tools and equipment. Nothing less than the best to equip the professional.
Klein remains dedicated to supplying only the finest quality products. Made for professional users, Klein tools are available through stocking distributors worldwide.