Get a (Cushion-)Grip on Your Jobsite Essentials
Performance. Durability. Precision. Efficiency. Comfort.
Klein Tools offers more than 4,000 products and each one is job-matched so tradespeople worldwide, and across all fields, can find the tools perfect to function and fit. From a tool's mechanics all the way down to its handle, every feature plays a part in getting the job done right. Although most won't think twice about it, the grip at the end of your tool is worth noting, providing all-day comfort for all-day use.
Let's take a closer look at just a few handle types featured on Klein Tools' jobsite essentials.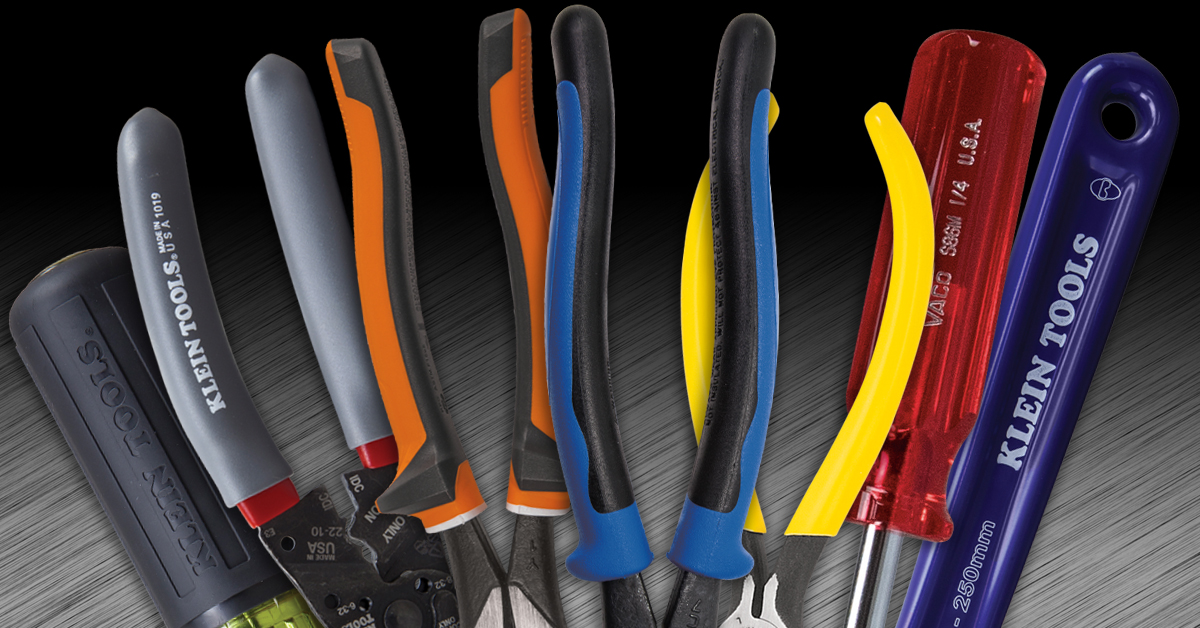 Plastic Dipped Handles – Many of Klein's core products are available with double-dipped plastic handles, which come in varying colors to help quickly identify tool type, length, cutting edge and more. Check out Klein's hi-visibility tools, featuring plastic dipped grips that are easier to spot in dark or low-lit areas. No matter the color, this reliable, classic design is exactly what's needed to stand up to harsh jobsite conditions with a durability built to last.
Klein-Kurve® Comfort Grips – Completing a task repetitively, like stripping or cutting wires, can quickly cause aches and pains. Klein-Kurve® Comfort Grips are shaped to fit perfectly in a professional's hand for full gripping and cutting power as well as reduced hand fatigue.
Dual-Material Journeyman™ Grips – Klein's team of innovators designed the Dual-Material Journeyman™ Grips to provide professionals with a better grip without sacrificing tool strength. The black inner material is hardened for toughness while the soft, outer material provides a firm, comfortable grip. Our state-of-the-art dual material molding process ensures tool handles not only are more comfortable but also last longer than alternatives.
Electrician's Insulated Handles – The Electrician's Insulated Tools feature a unique, three component molded insulation to help protect against electrical shock. The outer bright orange layer is impact-resistant and flame retardant. The high-dielectric inner coating is bonded tightly to the tool to provide an additional layer of protection. This multi-color, multi-layer handle design powers safety on the job.
Cushion-Grip Handles – In Mansfield, Texas, where Klein Tools Screwdrivers are forged together, the Cushion-Grip handles undergo rigorous quality inspections to ensure maximum comfort and torque. Although Klein's signature Cushion-Grips are most recognized on screwdrivers, versions of this handle design have become a staple on many Klein Tools products, including the Flashlight with Worklight (Cat. No. 56028), Bottle Opener (Cat. No. 98002BT) and others.
Comfordome® Handles – The smooth Comfordome® handles featured on select

Klein Tools

Screwdrivers and Nut Drivers fit comfortably in professionals' hands for use day-in and day-out.
Contoured Grips – Other Klein tools, including adjustable wrenches and aviation snips feature contoured grips, making tools more comfortable to hold. Not to mention the color-coded handles help save time spent otherwise searching for needed tools.
Whether your tool bag is stocked with Journeyman™ Pliers, Cushion-Grip Screwdrivers or all things Klein, know that over 160 years of expertise goes into every tool that we create.
Today, Klein's team of innovators has perfected our manufacturing process. It starts with forgings stamped out of a U.S.-made proprietary steel blend, and in the final stages, tools are polished, dipped or fitted with grips and packaged for distribution. Klein tools used on the job spark a legacy – a legacy of maximum durability meant be passed down from generation to generation, one handle after another.
Which Klein Tools handles or grips are your favorite? Share your experiences with us on social media.