Powering Safety with Insulated Tools
A vital component of electrical training is learning all there is to know about ensuring safety across different jobsites when exposed to several hazards, including risk of electrical shock. Klein Tools agrees – safety should always be a priority. That's why our team of engineers, workers and craftsman help manufacture the right tools for the job.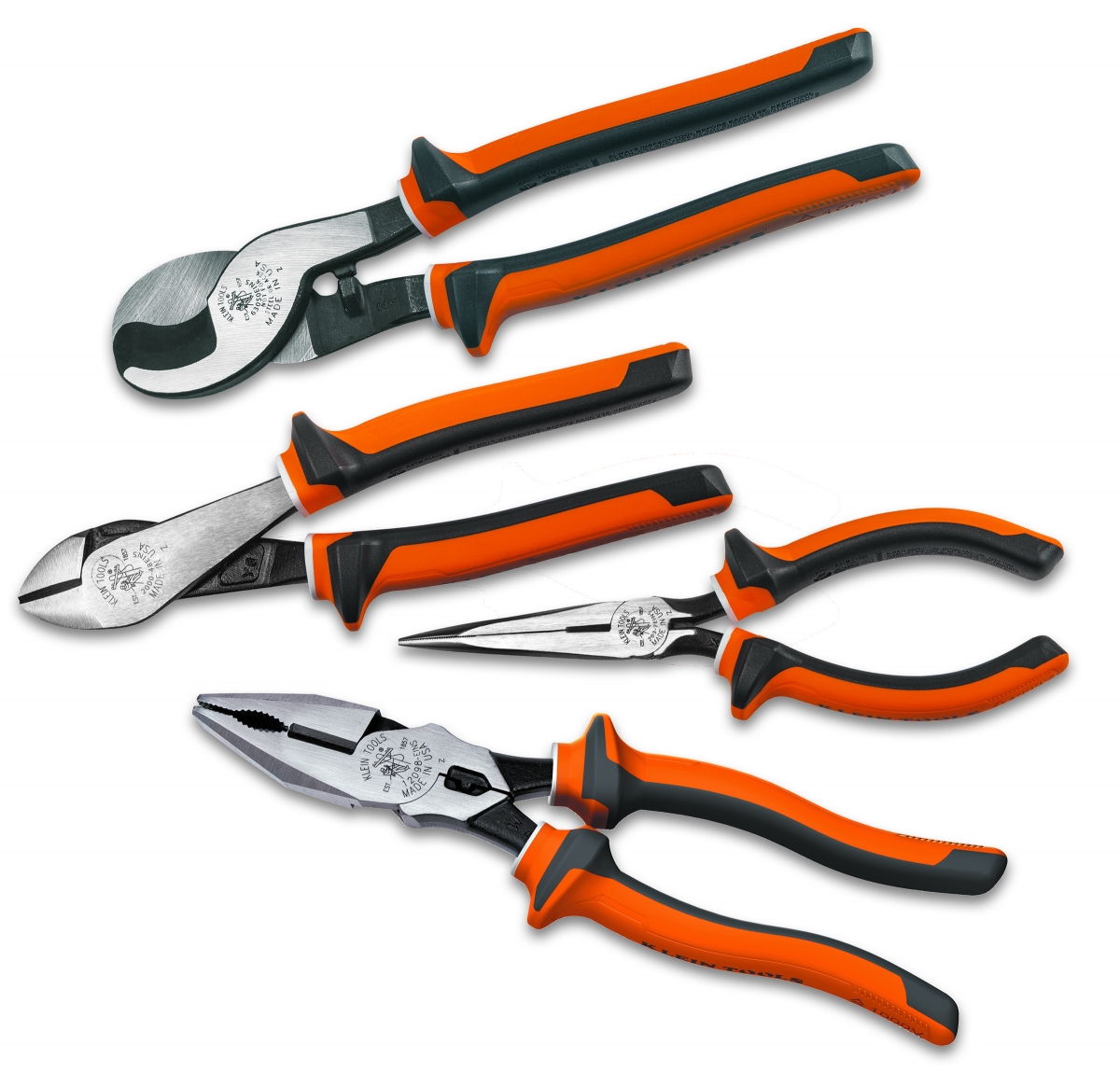 Klein's line of Electrician's Insulated Tools have a unique, three component molded insulation to protect against electrical shock, meeting universal safety ratings. Read on to learn more about special features of this essential product line and how to best take care of your tools.
Manufacturing Safety
Klein's insulated tools are forged from U.S.-made steel and stand up to the demands of the professionals who use them every day. Our secret?
Durability – Induction-hardened cutting knives provide a longer tool life.
Reliability – Ensuring protection day in and day out, Klein's line of insulated tools go through a rigorous, internal testing process, including the dielectric, handle pull-off, impact and flammability tests.
Layered Protection – Klein's three-part insulation includes the impact-resistant, flame retardant, bright orange outer coating as well as the exceptionally tough, high-dielectric inner coating.
Innovative Features – Hot riveted joints provide smooth action, eliminating handle wobble and small thumb guards not only help prevent contact with conductive parts but also make handling and storage easier.
Starting from our proprietary blend of steel through our three stage, heat treating and testing, Klein's manufacturing process provides the durability, reliability and protection needed to get the job done.
Klein's three component, molded insulation provides protection
against electrical shock with a sleek, multi-layer, multi-color design.
Help your Tools Care for you
From professionals to DIY-ers, insulated tools help reduce the risk of electrical shock. Even so, it's important to keep your tools up to the task through proper use and regular maintenance. Remember, when you take care of your insulated tools, they'll take care of you!
As noted, the three-part insulation provides added protection, but if you find any cracks, nicks, cuts or other damage to either layer, don't use that tool.
Klein tools are high-quality, but they don't make you invincible. Always try to de-energize all lines and equipment before you start working.
Keep your tools clean, dry and contaminant-free to maintain tool integrity and ensure the tools' surfaces cannot conduct electrical currents. Klein Kleaners can help you avoid damaging the outer layer and/or leaving a conductive residue.
At least once a year, or as needed, have your tools examined by a trained professional to help determine if the tools are safe for continued use.
When shopping for insulated tools, or any tool for that matter, it is important to understand the safety ratings for the job at hand. Only use those tools that are marked with the official international 1000-volt rating symbol, if there is any chance that the tool will make contact with an energized source.
Check out our other blog post for more information on Klein's standards for insulated hand tools and what certifications you should be shopping for. While insulated tools help reduce the risk of electrical shock, there's a lot more that goes into jobsite safety than just having the right tools. Please keep in mind that these are only general guidelines and tips.
Which insulated tools have helped you get the job done? Share it with us on social media!