A Cutting-Edge Breakthrough Begins with Klein Pliers
Posted on:
February 15, 2019
Starting with the initial product development process through the final purchasing experience, Klein's team of innovators puts six generations worth of expertise into every tool that we create – every step of the way. Those Lineman's Pliers in your tool bag underwent rigorous quality inspections to ensure they have what it takes to stand up to harsh jobsite conditions. Klein Tools Pliers feature core characteristics, such as comfortable grips, induction hardened cutting knives and a high-leverage design, to meet the demands of the professionals who use them every day.
Did we mention there are more than 150 plier models available?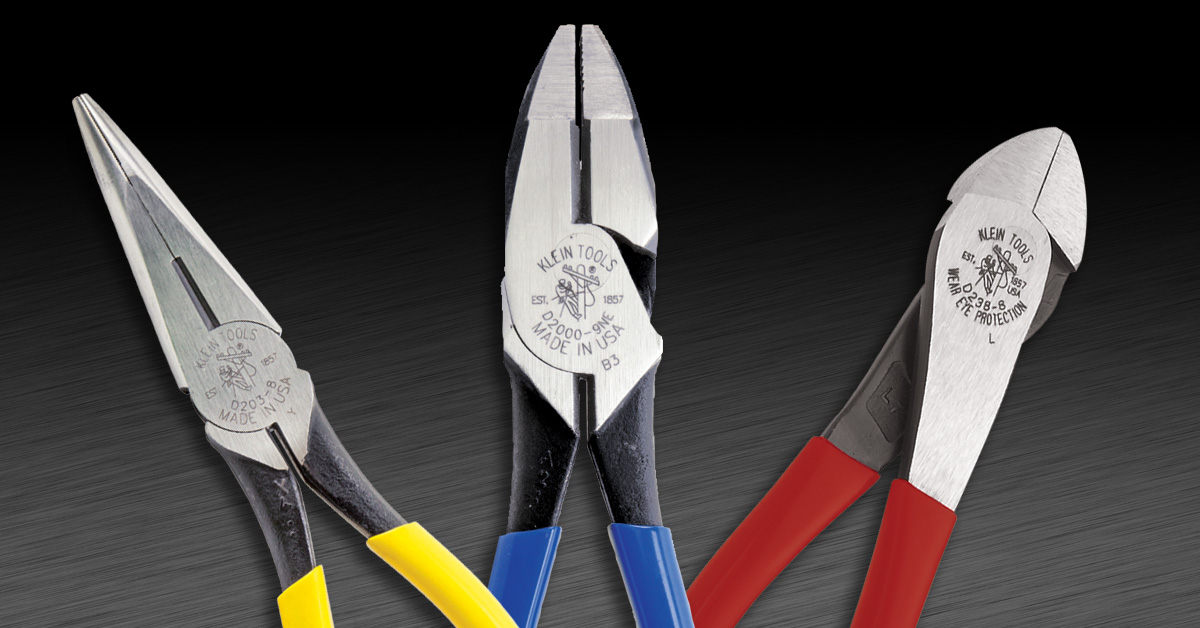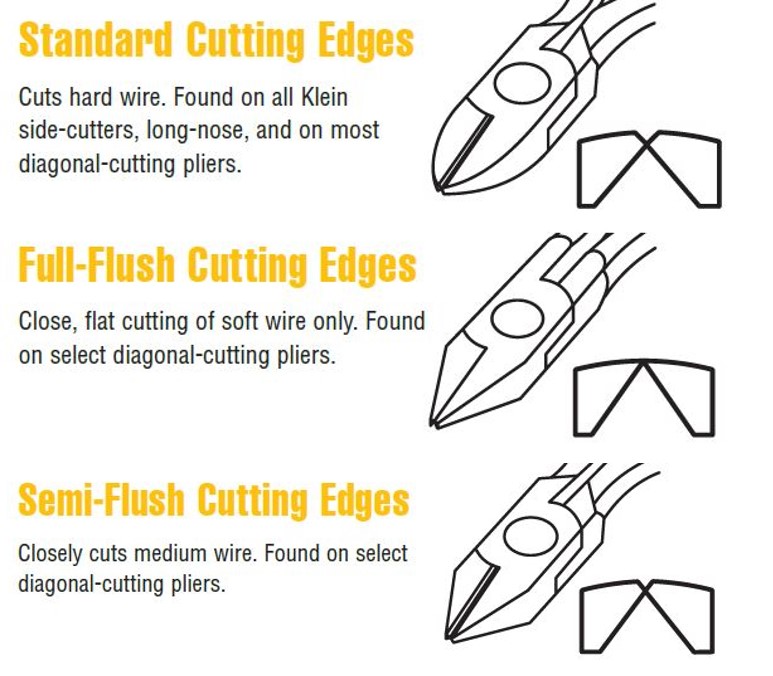 Customer feedback significantly helps our team provide these necessary jobsite solutions. Recently, we stumbled across the following product reviews, which express a concern in performance*:
"Only con is I wish they shut tighter at the tip."
"Slight gap between the cutting edges on mine."
"They don't seem to close all the way leaving a small gap at the tip, but I don't see that making a difference in the performance."
"Right from the start, I noticed a gap in the cutting edge. That gap makes it difficult to cut small stranded wire."
Klein pliers are manufactured to perfectly align and meet according to the way each is used. This gap in your pliers' cutting jaw actually has a purpose of its own. Three types of knife-edges are available:
Standard
Full-Flush
Semi-Flush
These knife-edge descriptions refer to the angle of the knives' outside cutting edges when fully closed. Each model is precision-machined to perform its intended purpose exceptionally. Full-Flush Cutting Edges can cut even the smallest of soft wires while Standard Cutting Edges are perfect for use on hard wire.
Most of Klein's pliers also incorporate a high-leverage design, which means the rivet's position is as close as possible to the cutting knives. This provides users with greater lever and fulcrum action, increasing the cutting power in comparison to alternative models where the rivet is located in the tool's center. For example, the 8-Inch Heavy-Duty Diagonal-Cutters (Cat. No. J2000-28) have 36 percent greater cutting power than other plier designs.
Todd Tatara, vice-president channel sales at Klein Tools, met with Sparky Channel at World of Concrete
to share more about Klein Tools' dedication to American Manufacturing. His expertise offers a closer look at the ins and outs of Klein pliers.
The first pair of Klein pliers was designed for a telegraph lineman in need more than 160 years ago. Today, however, Klein Tools offers an expansive product listing of professional-grade hand tools for use across all trades. All Klein Tools products are job-matched for the work you do and built with incomparable quality standards in a tradition that dates back to 1857. And while we're proud of the work that we do, we're even prouder of the work that we help you do, turning jobs that need doing into jobs well-done.
Which Kleins help you overcome everyday jobsite challenges? Share your tool bag must-haves, #NewKleins and old, with us on social media.
*Klein Tools' warranty covers products outside of conditions of abuse, misuse or normal wear. If your product is deemed as not performing its function properly, it can be returned to the distributor it was purchased from. Warranty return authorization forms are also available on the Klein Tools website. For more information about Klein's Warranty and Return Policy, visit: www.kleintools.com/content/warranty.