Datacom Installations Help Meet the World's Power Demands
With over 7.4 billion people in the world, it's no surprise that the demand for power has risen in recent years. Advanced developments in the datacommunication industry have enabled such growth, introducing new power delivery methods such as Power over Ethernet (PoE). PoE technology allows Ethernet devices to transmit and receive data as well as DC power through the same cabling.
Early, proprietary versions of this technology supported a variety of applications, including Voice over Internet Protocol (VoIP) telephones, stationary IP cameras, door access control units and other low-power (~13 W) devices. Today, datacom capabilities are constantly growing. Smart homes and offices use PoE to collect and share data throughout the building, managing lighting, security surveillance and other data generated, energy saving components, such as HVAC temperature controls, Wi-Fi access points and building automation – up to 10G and 85 Watts!
Shielded Cables Provide Needed Solutions
PoE has enabled datacom installation growth, but higher current capabilities have created new challenges involving heat creation and electrical noise. Electrical noise, or interferences which distort the sending and receiving of electrical signals, drive major industry concerns because of the disruptions caused to normal, day-to-day operations. Imagine many bundled cables trying to transmit a whole lot of power in a small space, commonly seen in industrial applications like factories. This creates large amounts of electrical noise. That's why professionals rely heavily on shielded CAT6A cables to safely and efficiently transmit all this power.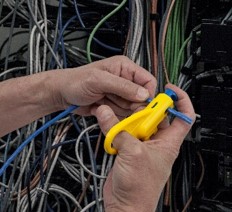 Please note: trends indicate an increase in CAT6A usage specifically for PoE installations due to the cable's heat resistance ability and larger bundle size.
Low-voltage technicians and electricians continue to power homes, offices, schools and everything in between by utilizing shielded cables to safely supply energy. Completed, successful datacom installations power up a world of possibilities – saving costs through centralized networks.
#NewKleins Help Professionals Complete Successful Installations
Experienced electricians complete years of classroom and on-the-job training to learn the ins and outs of electrical work and earn necessary jobsite certifications. All of this helps to keep themselves and the public safe when completing any form of electrical work, including datacommunication. From preparing wires for termination up to testing and verifying connections, many different components have to come together for every successful datacom installation.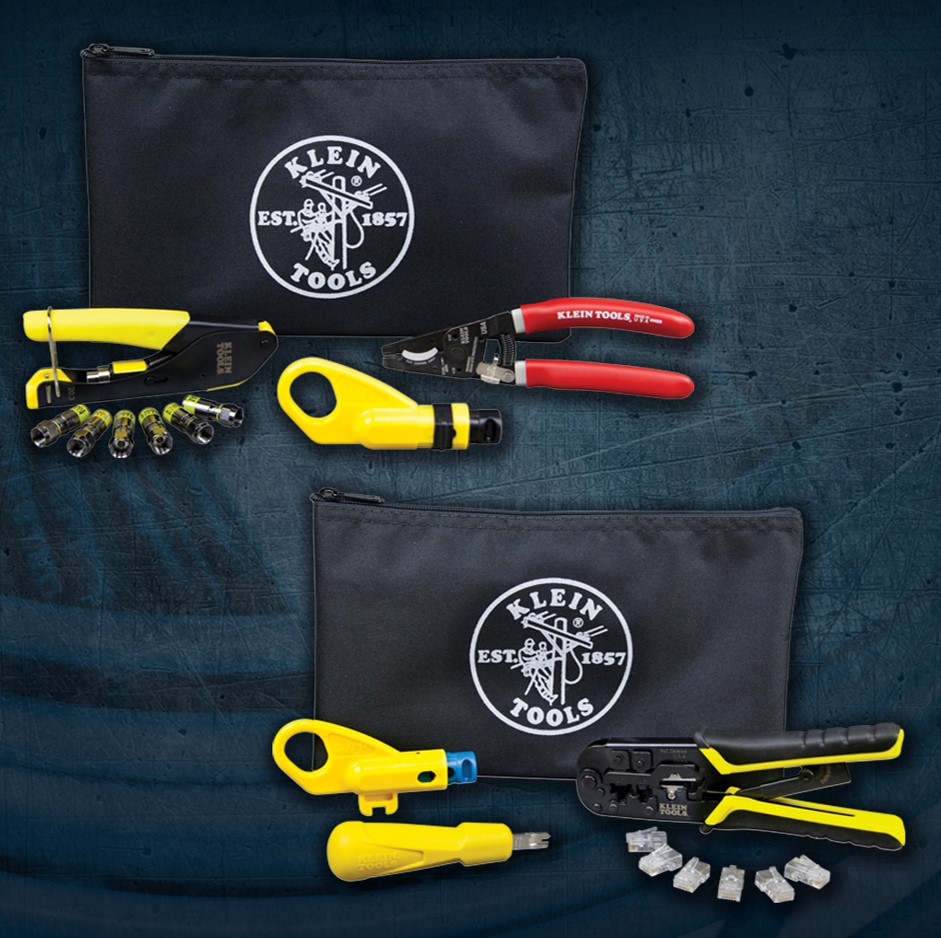 Luckily, some of our #NewKleins can help get the job done, whether you're just beginning your career in the trades or are an experienced Journeyman. Klein's new Twisted Pair and Coax Cable Installation Kits help professionals stay organized and save time on the job by keeping essential items handy. Tasks like stripping, crimping and punching down modular cables, as well as preparing and connecting coax cables can be completed more efficiently with these new go-to kits for those individuals working on datacom installations.
As with any installation, remember that an electrician's work should always be completed and based on a detailed knowledge of the wiring regulations and standards which are applicable in the specific region, such as ISO/IEC TR-29125, TIA TSB-184-A, IEC 60512-99-002 and IEEE P802.3bt. These guidelines, and many others, have been established to minimize hazards and systematize electrical work amongst participating countries. By following these codes professionals ensure that completed installations are safe for use and can meet or exceed everyday data and power needs.
How have you seen PoE used to meet the world's growing power demand? Share your stories with us on social media!