New Illuminated Fish Rod Tip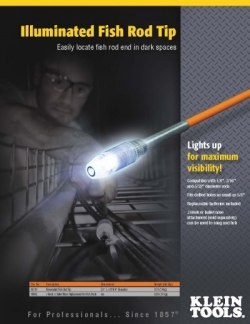 The Illuminated Fish Rod Tip Lights up for Maximum Visibility!
The bright white, omni‐directional light illuminates when fishing above ceilings, in attics, through walls, in crawl spaces and under raised floors. The hook or bullet nose attachments (sold separately) fit smoothly into the threaded top and the ends are tapered for easier pushing and pulling.
"We're always looking for ways to make the tradesman's job easier and safer" states Marina Wolk, product manager. "The illumination of this fish rod tip accessory helps the electrician find their way in even the darkest of places to get the job done faster".
The Illuminated Fish Rod tips fit drilled holes as small as 5/8" and are compatible with 1/4", 3/16" and 5/32" diameter rods. Replaceable batteries are included.
View complete press release.