New 1-1/4" Iron Conduit Bender from Klein Tools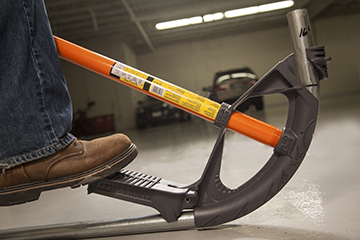 Klein Tools introduces the 1-¼" iron conduit bender (Cat. No. 56211) to bend 1-¼" Thinwall EMT or 1" Rigid and IMC conduit. Designed from feedback solicited during end-user research with journeymen electricians, the 1-¼" iron conduit bender addresses specific jobsite issues professional electricians face every day.
Klein Tools offers a complete line of conduit benders with bold cast-in symbols, degree scales, multiplier scales and center of bend marks to help save time on the job.
Be sure to check out our Bending Guide for common bends such as 90o Stub Up, Back-to-Back, Offset and Three Point Saddle Bends.