Klein Tools beats out 14 other hand tool companies
January 6, 2013 (Lincolnshire, IL) – Klein Tools, (http://www.kleintools.com) for professionals since 1857, has been named "Hand Tool Brand" of the year by Tools in Action (http://www.toolsinaction.com) readers. Competing against 14 other brands, Klein Tools took 38% of the vote.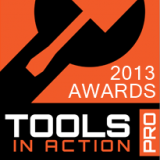 "In the past few years, the hand tool market has heated up," stated Dan Maxey, senior editor and co-founder of Tools in Action. "The innovation and quality is better than ever and Klein fans are voicing their appreciation."
"For 157 years, Klein Tools has been using the highest quality materials, superior workmanship, and U.S. manufacturing for the vast majority of its hand tools to uphold its rigorous standards," states Greg Palese, vice-president of marketing at Klein Tools. "This award demonstrates that Tools in Action readers know that when you pick up a Klein, it will never let you down."
# # #
Klein is a registered trademark of Klein Tools, Inc.
Toolsinaction.com is a leading online tool publication. The Tools in Action Awards started in 2010 and are one of the most prestigious tool awards on the web. The judging panel consists of editors from Toolsinaction.com, select industry professionals and tradesmen. For more information, visit www.toolsinaction.com.
Since 1857 Klein Tools, a family-owned and operated company, has been designing, developing and manufacturing premium-quality, professional-grade hand tools. The majority of Klein tools are manufactured in seven plants throughout the United States and are the number one choice among professional electricians and other tradespeople. For more information, visit www.kleintools.com.