August 21, 2014 (Lincolnshire, IL) – Klein Tools (www.kleintools.com) for professionals since 1857, was awarded the 2014 Best of the Best Award for "Brand Awareness by a Supplier" by The Electrical Distributor (tED) Magazine. For more than four decades, tED Magazine has recognized the electrical industry's top marketing initiatives with its Best of the Best competition.
Klein Tools' "World's Oldest Pair of Pliers" campaign showcased the long-lasting quality and workmanship in every pair of side-cutting pliers. The campaign asked participants to identify their pliers through a date/letter code and enter on-line or via a written form. The date/letter code found on every pair of Klein Side-Cutting Pliers was used to find the oldest pliers and determine the winner.
"The value placed on our products is exceptional," said Mark Klein, a sixth-generation Klein who serves as the company's vice president of domestic sales. "As a company, our goal is to produce the highest quality product possible. In exchange, we are rewarded with incredible customer loyalty."
Judges called the campaign an impressive effort with impressive results.
"This is a unique way to do an anniversary celebration that also communicates a lot about the brand. It demonstrates how Klein has been around for a long time and how its products hold their value," said Shad Thomas, Best of the Best award judge. The awards were handed out during the National Association of Electrical Distributors' (NAED) AdVenture Conference in Chicago. Pictured below are Thomas Barton - product marketing manager at Klein Tools, Mark Klein – vice president, domestic sales at Klein Tools, Todd Tatara – director, domestic sales at Klein Tools, and Shad Thomas – president at Glass Box Research.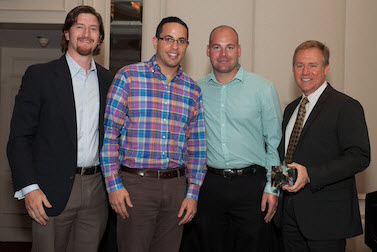 # # #
Klein is a registered trademark of Klein Tools, Inc.
About Klein Tools: Since 1857 Klein Tools, a family-owned and operated company, has been designing, developing and manufacturing premium-quality, professional-grade hand tools. The majority of Klein tools are manufactured in seven plants throughout the United States and are the number one choice among professional electricians and other tradespeople. For more information, visit www.kleintools.com.
About tED Magazine: Circulated to more than 27,000 readers throughout the electrical distribution industry, the award-winning tED magazine serves as the industry's primary source for trends, best practices, and news happening throughout the electrical supply chain. In addition to its monthly print edition, tED produces up-to-the minute news through tEDmag.com, four weekly e-newsletters, and its LinkedIn, Facebook, and Twitter channels. The NAED is the trade association for the $70+ billion electrical distribution industry. Through networking, education, research, and benchmarking, NAED helps electrical distributors increase profitability and improve the channel. The NAED's membership operates in approximately 4,400 locations internationally.