Klein Tools Wins Four Pro Tool Reviews Innovation Awards
New Wire Pulling Foam Lube Creates a Lather in the Industry
October 20, 2014 (Lincolnshire, IL) – Klein Tools, (http://www.kleintools.com) for professionals since 1857, announced four of its products were honored with 2014 Pro Tool Reviews Innovation Awards. The Klein Tools product winners include Foam Wire Pulling Lubricant (Cat. No. 51100), All-Purpose Pliers (Cat. No. J206-8C), the Switch Drive Handle System (Cat. No. 32700 and 32701), and the Tradesman Pro™ Organizer Lighted Tool Bag (Cat. No. 55431).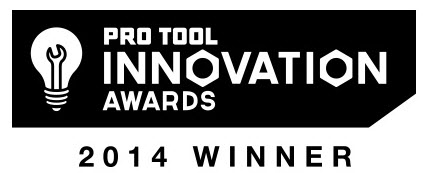 "Certain manufacturers go the extra mile to add useful and often game-changing innovations to their product offerings," said Clint DeBoer executive director of the Pro Tool Innovation Awards. "Klein tools deserve a coveted spot in the toolbox of any tradesman, contractor or DIYer."
A panel of judges representing tool professionals from across the United States, weighed in on entries from top global manufacturers, and Klein Tools was selected as a recipient of this honor. Here's what the Pro Tool Review Innovative Awards judges had to say about Klein Tools: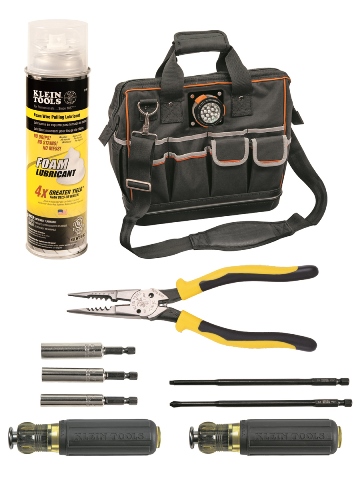 1. Foam Wire Pulling Lubricant -- Klein's Foam Wire Pulling Lubricant is a game changer for electricians. Although the can is about the same size as a can of spray paint, the foam expands significantly and will replace about a gallon of gel.
2. All-Purpose Pliers -- If you want a nice well-rounded set of pliers for stripping wire, it will be hard to beat these. For one, they have an entirely different feel from the Klein-Kurve® wire cutters. There are going to be a lot of people who really like that—we do.
3. Switch Drive Handle System -- We love being able to use all of our accessories in impact drivers, but the fact is that there are times when even the lowest speeds don't have enough control or finesse to do the job properly (or you simply don't need the additional weight of a battery-powered tool). We're happy to know that Klein quality is built into these hand drivers that give us the opportunity to do both.
4. Tradesman Pro™ Organizer Lighted Tool Bag -- Tool bags often fall prey to becoming a place to dump all your hand tools in one place without much organization. They all are mixed up at the bottom and you root around hoping to grab the right one. By designing an orange interior and including a light to see, Klein makes those of us that are a little more disorganized a little less frustrated.
"Klein Tools is ecstatic to win four product awards, especially the recognition for our exclusive Foam Wire Pulling Lubricant which is a new 'no mess' alternative to traditional gel or wax lubricants," states Greg Palese, vice president of marketing. "We are thrilled that we were recognized for products across the breadth of our lines from tool bags, screwdrivers, and pliers to wire pulling. It confirms that innovation that makes an application easier to use, saves time or money, will be rewarded."
# # #
Klein is a registered trademark of Klein Tools, Inc.
About Klein Tools: Since 1857 Klein Tools, a family-owned and operated company, has been designing, developing and manufacturing premium-quality, professional-grade hand tools. The majority of Klein tools are manufactured in plants throughout the United States and are the number one choice among professional electricians and other tradespeople. For more information, visit www.kleintools.com.
About the Pro Tool Innovation Awards: The Pro Tool Innovation Awards (PTIA) are an annual awards program judged by a panel of professional tradesmen in the electrical, plumbing, MRO and concrete fields as well as general contractors and builders. The Pro Tool Innovation Awards seek to discover and recognize the most innovative tools in the residential and commercial construction industry across a wide variety of categories. The Pro Tool Innovation Awards is backed by over a dozen media sponsors, including its founding member, Pro Tool Reviews, who hosts the awards each year on their website.
About Pro Tool Reviews: Pro Tool Reviews (PTR) is a successful online tool review magazine with content written by electricians, plumbers, carpenters, framers, concrete/masonry professionals and general contractors. PTR reviews are written by professionals, for professionals. For additional information, please visit www.protoolreviews.com