Tools are recognized for their multi-use functions saving time, money and space
October 12, 2015 (Lincolnshire, IL) – Klein Tools (http://www.kleintools.com), for professionals since 1857, was presented with four Pro Tool Innovation Awards for products launched this past year. The winning tools include Adjustable Length Screwdriver (Cat. No. 32751), Non-Contact Voltage Tester with Flashlight (Cat. No. NCVT-3) Multi-Bit Tap Tool Driver (Cat. No. 32517) and the All-Purpose Pliers with Crimper (Cat. No. J207-8CR).

"As manufacturers strive to go the extra mile to add useful and often game-changing innovations to their product offerings, we want to point them out so our Pro readers know who's leading the pack," said Clint DeBoer, executive director of the Pro Tool Innovation Awards. "Klein Tools has truly earned a coveted spot in the toolbox of any tradesman, contractor, or construction professional."
A panel of judges, representing tool professionals from across the United States, weighed in on entries from top global manufacturers and Klein Tools was selected from among 160 submissions. Here's what the Pro Tool Innovative Awards judges had to say about Klein Tools:
When we first saw Klein's Adjustable Length Screwdriver, we thought it was going to be a notched system that took advantage of a quick-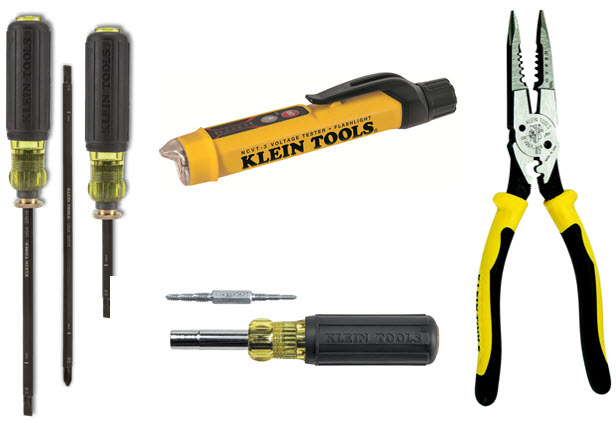 release style system like an impact driver. We were wrong. Klein found a way to allow for infinite adjustments in the 4″ to 8″ range. While they're not sharing how it works (and we don't blame them!), the screwdriver blade is held as solid as a fixed blade screwdriver. With the traditional Klein Cushion-Grip and double ended blade, this is a sure winner!
We don't review very many tools that end up with a perfect rating, but Klein's NCVT-3 is one of them. For just under $25, the Klein non-contact voltage tester is as close to a no-brainer tool as you can get if you even occasionally do electrical work. For seasoned professionals, it's a handy tool that one-ups the standard NCVT products on the market by adding low voltage detection from 12-48V and integrating a handy LED light. The fact that it will give you 15 hours of continuous use and 6 hours as an LED flashlight means that you won't be barreling through AAA batteries either. This is a well-designed tool that does what it's supposed to and does it well. Pick one up. You won't regret it.
We love it when multi-use tools save us time getting tools, money buying tools, and space in our tool belts. Klein achieves all three with the Multi-Bit Tap Tool Driver. With one hand tool, you can tap threads in the most common sizes, then turn around and drive a screw or nut without heading back to the tool bag or carrying additional tools on your belt.
We loved Klein's original All-Purpose Pliers and they just got better! Klein removed the spring in the middle (which we liked) and replaced it with a crimper (which we really like) to add another feature to this innovative hand tool. So how do you choose between spring loaded and crimping? We'll let you know if we decide for sure. For now, it's a split decision. We'll take both for the tool box and carry the crimping model for the belt.

"Klein Tools is thrilled to win four product awards for our hand tools and test and measurement devices," states Greg Palese, vice president of marketing. "It confirms that combining multi-use applications in to one tool which saves time, money or weight on the tool belt or in the bag, will be rewarded."
# # #
Klein is a registered trademark of Klein Tools, Inc.
Since 1857 Klein Tools, a family-owned and operated company, has been designing, developing and manufacturing premium-quality, professional-grade hand tools. The majority of Klein tools are manufactured in plants throughout the United States and are the number one choice among professional electricians and other tradespeople. For more information, visit www.kleintools.com.
The Pro Tool Innovation Awards (PTIA) are an annual awards program judged by a panel of professional tradesmen in the electrical, plumbing, MRO and concrete fields as well as general contractors and builders. The Pro Tool Innovation Awards seek to discover and recognize the most innovative tools in the residential and commercial construction industry across a wide variety of categories. Visit www.protoolinnovationawards.com for more information.
Pro Tool Reviews (PTR) is a successful online tool review magazine with content written by electricians, plumbers, carpenters, framers, landscapers, concrete/masonry professionals and general contractors. PTR reviews are written by professionals, for professionals. For additional information, please visit www.protoolreviews.com