Klein Tools Unveils a New Line of Stronger, Lighter Conduit Benders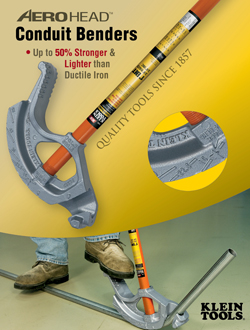 LINCOLNSHIRE, IL – March 4, 2009
Klein Tools introduces a new line of 12 conduit bender heads, handles and fully assembled benders, including the innovative new AEROHEAD™ series. Klein's AEROHEAD™ Conduit Bender head is made using an advanced casting process and aerospace grade alloy to produce a bender that is up to 50% stronger and lighter than traditional ductile iron. Virtually indestructable, the new AEROHEAD™ line is made in the USA and offers the ultimate in performance and durability that professionals have come to expect from Klein Tools.
"In terms of strength and light weight, the main goal for AEROHEAD™ was to give the end user the best of both worlds. In order to achieve this level of performance, we looked beyond the methods of traditional manufacturing and turned to the aerospace industry for technologies and materials we could adapt for developing AEROHEAD™. We are absolutely thrilled with the outcome," said Vince Kendzierski, product manager, Klein Tools.
AEROHEAD™ benders feature the timeless Benfield® head design for performing accurate and reliable bends such as Stub Ups, Offsets, Back-to-Back and Saddle Bends for quick and easy installation that eliminates waste and saves time. Each bender head features well defined, cast-in benchmark symbols professionals recognize like the arrow that points to the beginning of a bend, a star that indicates back-of-bend locations and the "tear drop" symbol which indicates the exact center of a 45° bend. Degree and multiplier scales are cast-in to the head as well as a series of alignment points on the hook end to help line up conduit and make straighter bends. The handles are made of high-strength steel and swaged at the end for inserting conduit and correcting overbends.
Product specifications and catalog information can be found at www.kleintools.com.
Klein Tools, Inc. is a leading manufacturer of professional hand tools and occupational protective equipment. For more information on the Holemaking product line, please contact: Klein Tools, P.O. Box 1418, Lincolnshire, IL 60069-1418.