May 5, 2021 (Lincolnshire, Ill.) – Klein Tools (www.kleintools.com), for professionals since 1857, introduces the AC/DC Voltage and Receptacle Electrical Tester Kit (Cat. No. ET45VP) for electricians, technicians and more to quickly diagnose potential electrical problems.
AC/DC Voltage Tester, ET45
Tests AC voltages from 24V to 240V AC at four levels
Tests DC voltages from 32V to 330V at four levels
Built-in test lead holder on back of tester holds the leads in one of two positions; one so that they are spaced correctly to test tamper-resistant US-style outlets and the other for convenient storage of the test leads
Batteries not required; tester is powered by applied voltages
Safety Rating: CATIII 350V, Class 2, Double insulation
Pocket clip secures tester to pocket
Ingress protection IP44 dust and water resistant
Drop protection of 9.9' (3 m)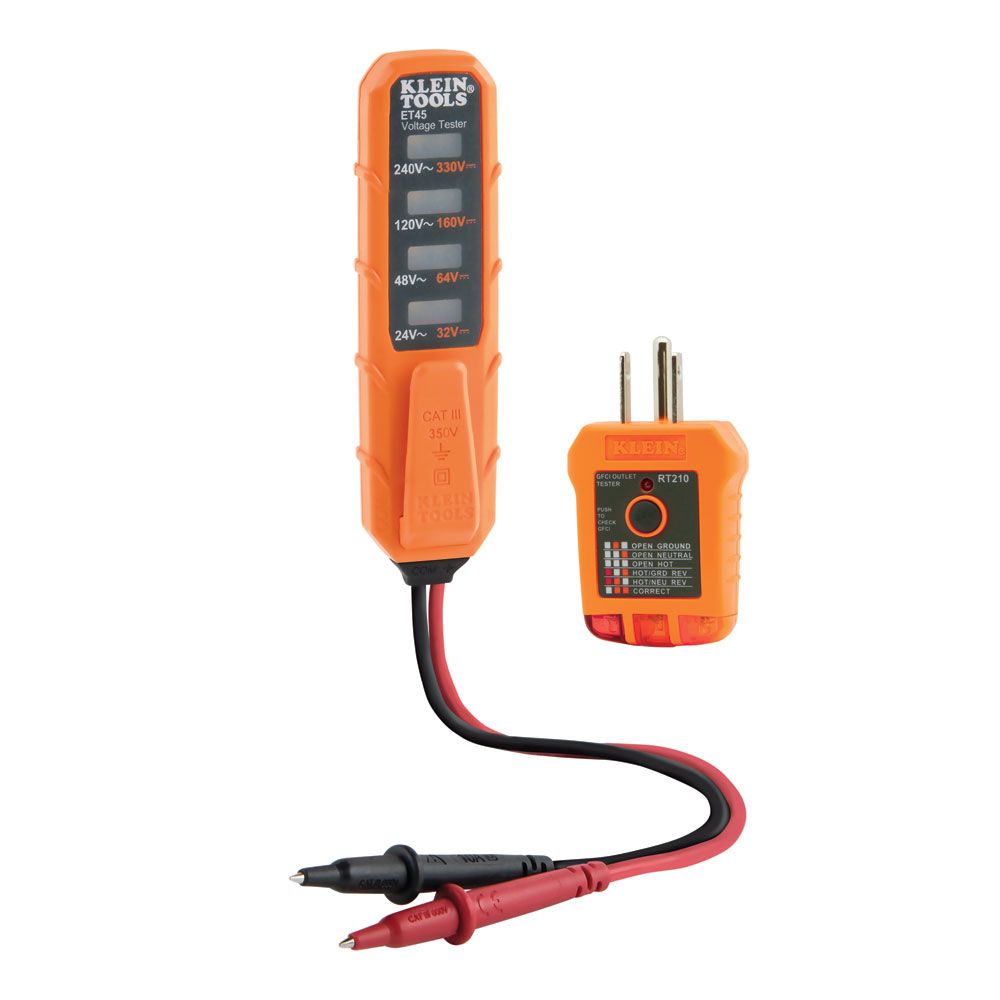 GFCI Outlet Tester, RT210
GFCI Tester detects the most common wiring problems in standard and GFCI receptacles
Works on GFCI outlets and confirms operation of the ground fault protective device
A convenient chart on the tester helps determine wiring condition in outlet, based on LED lights results
Conditions indicated: open ground, reverse polarity, open hot, open neutral, hot/ground reversed
Nominal Voltage: 110/125V AC at 50/60Hz in 3-wire outlet
Drop protection of 6.6' (2 m)
"Both of these testers are tools that electricians use on a daily basis," said Sabrina Kalsi, product manager at Klein Tools. "Pairing them together makes sense for the purpose of diagnosing potential electrical problems and allows us to feature two of our best-selling testers in a convenient value kit."
For more information, visit www.kleintools.com/new-products or search for #NewKleins on social media.
About Klein Tools
Since 1857 Klein Tools, a family-owned and operated company, has been designing, developing and manufacturing premium-quality, professional-grade hand tools. The majority of Klein tools are manufactured in plants throughout the United States and are the No. 1 choice among professional electricians and other tradespeople. For more information, visit www.kleintools.com.
Klein is a registered trademark of Klein Tools, Inc.