August 10, 2016 (Lincolnshire, IL) – Klein Tools (http://www.kleintools.com), for professionals since 1857, introduces a new line of multi-bit screwdrivers and exclusive multi-nut drivers designed to increase productivity and save space in a tool belt or bag. Klein Tools' research shows electricians want to do more with fewer tools and these multi-bit screwdrivers and multi-nut drivers do just that.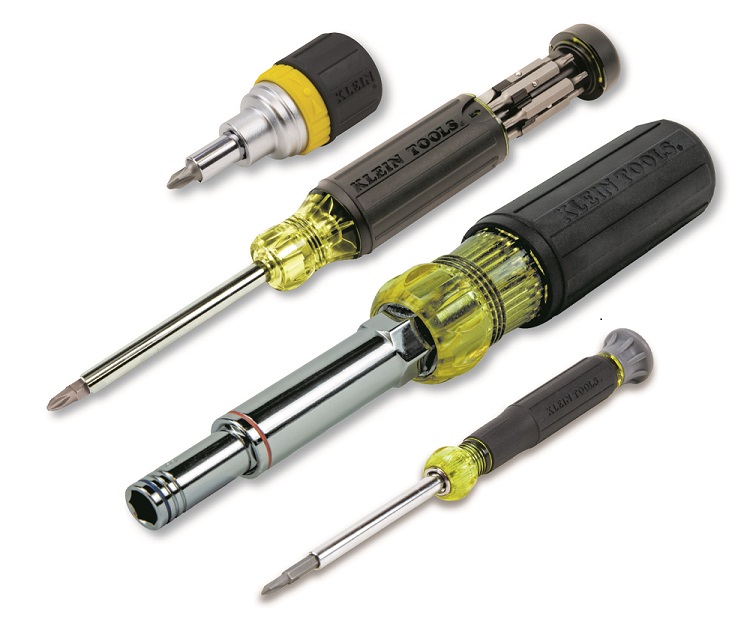 Multi-Nut Drivers
Klein's exclusive multi-nut drivers come in two models with multiple interchangeable hex sizes. The heavy-duty shafts and cushion-grip handles exceed the torque performance of regular nut drivers. Both models also have wrench assist for added torque when needed.
15-in-1 Multi-Bit Screwdrivers
This multi-bit screwdriver features a fixed shaft with a ¼'' nut driver and internal storage in the cushion-grip handle for 14 different screwdriver bits. It is available in three models:
6-in-1 Ratcheting Stubby Screwdriver
The compact design of the 6-in-1 ratcheting stubby screwdriver makes it easier to work in confined spaces, while the ratcheting mechanism allows users to work faster and with more efficiency. It is available in two models. One with standard bits and one with standard and square recess bits. Both models also have ¼'' and 5/16'' nut drivers.
4-in-1 Electronics Screwdriver
This multi-bit screwdriver features four different interchangeable tips for working on electronics. The tips are heat-treated and precision machined for greater strength. It also has a rotating cap for optimum and precise control and a cushion-grip handle for comfort.
''Electricians are looking for ways to work more efficiently,'' said Raul Rosales, senior product manager at Klein Tools. ''As the tradesman's needs change, so do our tools. These new drivers were designed to address the need for more functionality in one tool''.
For more information, visit our website at http://www.kleintools.com/drivers or contact your local distributor.
# # #
Klein is a registered trademark of Klein Tools, Inc.
Since 1857 Klein Tools, a family-owned and operated company, has been designing, developing and manufacturing premium-quality, professional-grade hand tools. The majority of Klein tools are manufactured in plants throughout the United States and are the number one choice among professional electricians and other tradespeople. For more information, visit www.kleintools.com.