Klein Tools Introduces Ranger TDR Kit
TDR-Spread Spectrum Technology Provides Accuracy Up to ±1% and ±3 Feet
October 5, 2012 (Lincolnshire, IL) -- Klein Tools (http://www.kleintools.com/) for professionals since 1857, introduces the Ranger™ TDR Kit which measures cable length, and locates faults in addition to tone generation, simplifying inventory, estimates and billing jobs. With the time domain reflectometry spread spectrum technology (TDR-SS), the Ranger TDR Kit eliminates measuring interference and provides accurate readings up to ±1% and ±3 feet – the highest in the industry. With one tool, professionals can confidently determine the status of each wire in a data, power or communications/video system.
Klein Tools' high-tech Ranger TDR Kit (Cat. No. VDV501-815) measures voice, data, video, doorbell, siamese, lamp-wire and NM cables up to 3,000 feet. With the TDR-SS technology, the Ranger Kit measurement accuracy is up to ±1% and ±3 feet -- setting a new standard in its class. It can be used on an even broader amount of operating environments including Safety Extra Low Voltage (SELV) rated environments as defined by the IEC*. This length measurement tester ensures compliance and identifies cable runs outside specification. The fault finder feature determines if a cable run is broken or damaged. The tone generator** identifies and traces cable plus features four tone cadences. In addition, the Ranger TDR Kit saves time and increases efficiencies by measuring cable remaining in a box or on a reel as well as facilitating estimates and billing jobs correctly.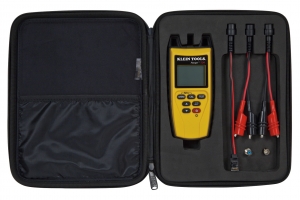 "Our customers demand superior accuracy, versatility and value in their Klein Voice/Data/Video testers," states product manager, Chris Niklas. "The Ranger with Spread Spectrum TDR is the newest technology for testing cables providing the highest accuracy and the most operating environment options for cable measurement."
For more information visit our website at www.kleintools.com or contact your local distributor.
*SELV is 60 volts DC or Peak AC (45 volts RMS)
**Requires analog tone probe sold separately