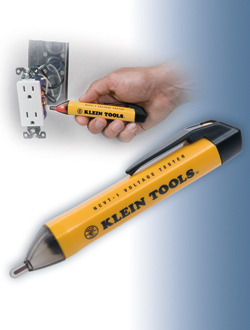 LINCOLNSHIRE, IL – January 2009
Klein Tools' Electrical Testers line now includes a non-contact voltage tester
(NCVT-1) that incorporates high-quality electronics, heavy-duty polycarbonate plastic resins and state-of-the-art construction in a convenient compact tool. Designed for professionals, the NCVT-1 features non-contact detection of voltage in cables, cords, circuit breakers, lighting fixtures, switches, outlets and wires.
"The NCVT-1 is a reliable tester that provides accurate test readings and durability on the job site, in the shop and at home," said Chris Niklas, Product Manager, Klein Tools. "This compact, pocket-sized tool helps users work safer and faster."
A high-intensity, bright green LED indicates the tester is operational and aids in illuminating the workspace. A high-intensity red LED illuminates and warning tones sound when voltage is detected. An auto power-off feature conserves and extends battery life.
With a CAT IV rating and operating range of 50 to 1000-volt AC power, this tool is designed for a broad range of applications. Lightweight and durable construction with a convenient clip allows it to fit or attach securely to pockets.
Product specifications and catalog information can be found at www.kleintools.com.
Klein Tools, Inc. is a leading manufacturer of professional hand tools and occupational protective equipment. For more information on the Electrical Testers product line, please contact: Klein Tools, P.O. Box 1418, Lincolnshire, IL 60069-1418.