Klein® Tools Introduces New Storage for Laptops and Tech Devices
Products include tool bags, meter carrying cases, and phone holders
October 21, 2013 (Lincolnshire, IL) – Klein Tools, (http://www.kleintools.com) for professionals since 1857, introduces new tech bags to the popular Tradesman Pro™ Organizers line. These products are designed to hold laptops and other technical devices such as meters or smartphones.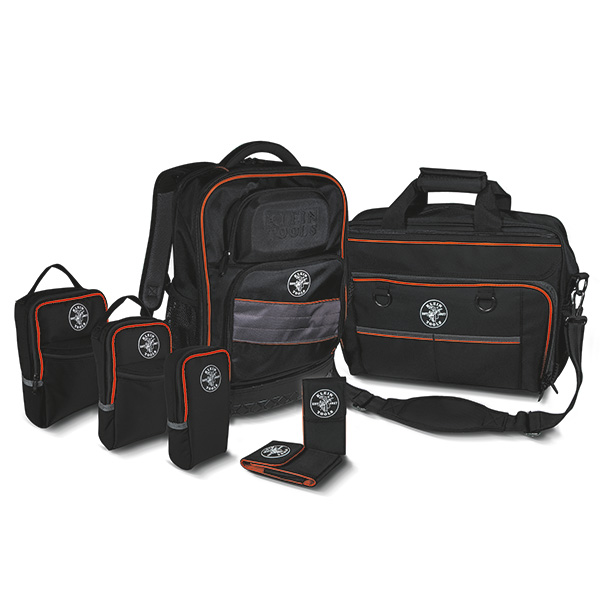 The Tradesman Pro™ Tech Backpack (Cat. No. 55456BPL) and Tradesman Pro™ Tech Bag (Cat. No. 55455M) are designed for professionals that need to carry a laptop or tablet to the jobsite. Both bags have a separate compartment to keep laptops protected from other tools. There is also storage for adapters and cables as well as an organizer pocket for pens, phones, cables, and more.
The Tech Backpack has 25 pockets, including a hard, molded front pocket for safety glasses. It has a bright orange interior and a tough, durable molded bottom to protect from the elements. The Tech Bag has 22 pockets, including a zipper pocket for files and paperwork. It also has a bright orange interior, and protective guards and water resistant material on the bottom of the bag.
"Many technicians have to carry two bags to the jobsite, one for their tools and one for their laptops," said Product Manager Linda Rolfe. "With these new Tradesman Pro™ Tech Bags, you can put your laptop and tools all in one bag."
Also new to the Tradesman Pro™ line are Smartphone Holders. They are available in two sizes: A small size (Cat. No. 55460) designed to fit the iPhone 4 and 5 (or similar sized phones), and a large size (Cat No. 55461) designed to fit the Samsung Galaxy S® 3 and 4 (or similar sized phones). Each has a magnetic flap closure and a metal belt clip.
In addition, Klein Tools has added three Tradesman Pro™ Meter Carrying Cases that have two layers of padding to protect even delicate instruments. The cases include heavy-duty zippers and rugged PVC-coated polyester for durability. The Small Meter Carrying Case (Cat. No. 69406) includes an interior pocket and a belt loop with snap closure that attaches to belts, bags and backpacks. The Medium (Cat. No. 69407) and Large (Cat. No. 69408) Meter Carrying Cases have a sturdy handle as well as an interior and exterior pocket for organization and quick access.

# # #

Klein is a registered trademark of Klein Tools, Inc.
Since 1857 Klein Tools, a family-owned and operated company, has been designing, developing and manufacturing premium-quality, professional-grade hand tools. The majority of Klein tools are manufactured in seven plants throughout the United States and are the number one choice among professional electricians and other tradespeople. For more information, visit www.kleintools.com.