Klein Tools Introduces New 10" Adjustable Spud Wrench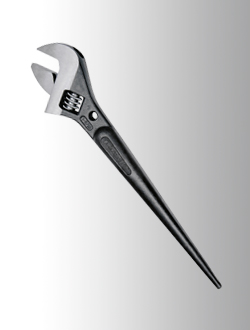 LINCOLNSHIRE, IL — December 6, 2010
The latest addition to Klein Tools, Inc.'s Steel Construction product line is the new 10" Adjustable Spud Wrench (Cat. No. 3227). This versatile 10" Adjustable Alignment Wrench is perfect for lining up holes and tightening nuts on structural steel but also tough enough for heavy construction projects, such as bridgework.
The large jaw opening (1-5/16") is useful for a variety of applications on the jobsite. It is made from the same select alloy steel as Klein's large Adjustable Alignment Wrench (Cat. No. 3239), also used by HVAC workers. This new wrench is proudly made in the U.S.A and features a lanyard hook that makes it convenient to store and hook into place.
The 10" Adjustable Spud Wrench joins a wide range of other Klein Construction tools, including pins and bars. Product specifications and catalog information for the complete line can be found at www.kleintools.com.
Klein Tools, Inc. is a leading manufacturer of professional hand tools and occupational protective equipment. For more information on the Holemaking product line, please contact: Klein Tools, P.O. Box 1418, Lincolnshire, IL 60069-1418.