Klein Tools Introduces Journeyman™ Snips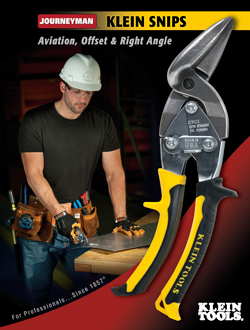 LINCOLNSHIRE, IL – August 3, 2009
Klein Tools recently expanded its extensive line of sheet metal tools with 10 new Journeyman™ Aviation Snips that are manufactured to the highest quality standards for professional tradesmen and the HVAC industry. Designed for exceptional comfort and durability, the Aviation, Offset and Right Angle Snips all combine the latest innovations in handle design and grip technology (patents pending).
Klein's new Journeyman™ Snips feature long-lasting serrated, forged-steel cutting blades for strength and durability, and corrosion-resistant plated handles. Exclusive dual-material grips feature hard, colored material for toughness and durability and soft black material on the outer surface for comfort and a firmer grip. Klein Kurve® design provides additional comfort and Tip-Ident® helps make identification easy. Klein Journeyman™ Snips are made in the U.S.
"The Journeyman™ line of hand tools represents the best of Klein quality and workmanship with the latest innovations in handle design and grip," said Steve Relaz, Product Manager, Klein Tools.
The Aviation and Offset Snips are available in various cutting patterns (left/straight, right/straight, straight/wide curve, notch/straight) and the Right Angle Snips offer left curves, right curves, tight circles and straight cuts. The Right Angle Snips make cutting easier in confined spaces, such as in ductwork, reaching through openings or against a wall.
Product specifications and catalog information can be found at www.kleintools.com.
Klein Tools, Inc. is a leading manufacturer of professional hand tools and occupational protective equipment. For more information on the Holemaking product line, please contact: Klein Tools, P.O. Box 1418, Lincolnshire, IL 60069-1418.