Klein Tools Introduces Its VDV Cushion-Grip Impact Punchdown Tool
New punchdown tool design provides easier access to panels, systems and jacks
February 25, 2014 (Lincolnshire, IL) – Klein Tools (http://www.kleintools.com), for professionals since 1857, expands its innovative Voice/Data/Video punchdown tool line with a new Cushion-Grip Impact Punchdown Tool and Blade. This unique tool design incorporates a cushion-grip handle, hi/lo impact settings and an inherently long shaft for reaching into narrow/crowded blocks. The Dura-Blade™, a newly designed Metal Injection Molded (MIM) punchdown blade, has been constructed to deliver long-lasting cutting performance. Utilizing a two-step impact process, the Cushion-Grip Impact Punchdown Tool & Blade ensure a precise wire insertion and trim each time delivering a pristine voice and data wire installation.
Klein Tools' Cushion-Grip Impact Punchdown Tool (Cat. No. VDV427-821) is made specifically for cable installation and maintenance of 110 and 66 panels, cross-connect systems and wall-jacks. Product features include:
• A two-step impact process precisely inserts and then trims off excess wire
• An integrated, extra-long shaft for reaching into bulky, crowded blocks
• A "Hi/Lo" impact functionality for adjustable compression force on various wire gauges, blocks and jacks
• A Cushion-Grip handle reduces hand fatigue and provides superior comfort
• A heavy-duty metal collar for strength and longevity
• Dura-Blade™ 110/66 Cut Combination Punchdown Blade with MIM technology for better quality, durability and performance.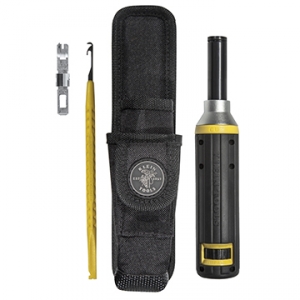 "Most current punchdown tools follow the same traditional, square-based pyramid style that is difficult to maneuver and requires additional accessories to reach into tight spaces," states Sean O'Flaherty, senior product manager. "Klein Tools' new punchdown tool naturally overcomes these hurtles with its comfortable screwdriver-shape design that includes a long, narrow shaft that eliminates these limitations and provides easy, precise access to panels and blocks."
The VDV Cushion-Grip Impact Punchdown Tool Kit (VDV427-822) provides everything a technician needs to install and maintain panels, cross-connect systems and wall-jacks. Kit includes:
• One Cushion-Grip Impact Punchdown Tool with Dura-Blade™ (VDV427-821)
• One Wire Pick/Spudger (VDV327-103)
• One Multi-Pocket Pouch with belt clip (kit exclusive)
# # #