June 5, 2019 (Lincolnshire, Ill.) – Klein Tools (www.kleintools.com), for professionals since 1857, introduces the 26-Piece Pro Impact Power Bit Set, featuring longer nut drivers and bits to reach easily into electrical boxes or panels. All 26 pieces are manufactured with S2 high-impact rated steel and fit securely in a durable, convenient carrying case.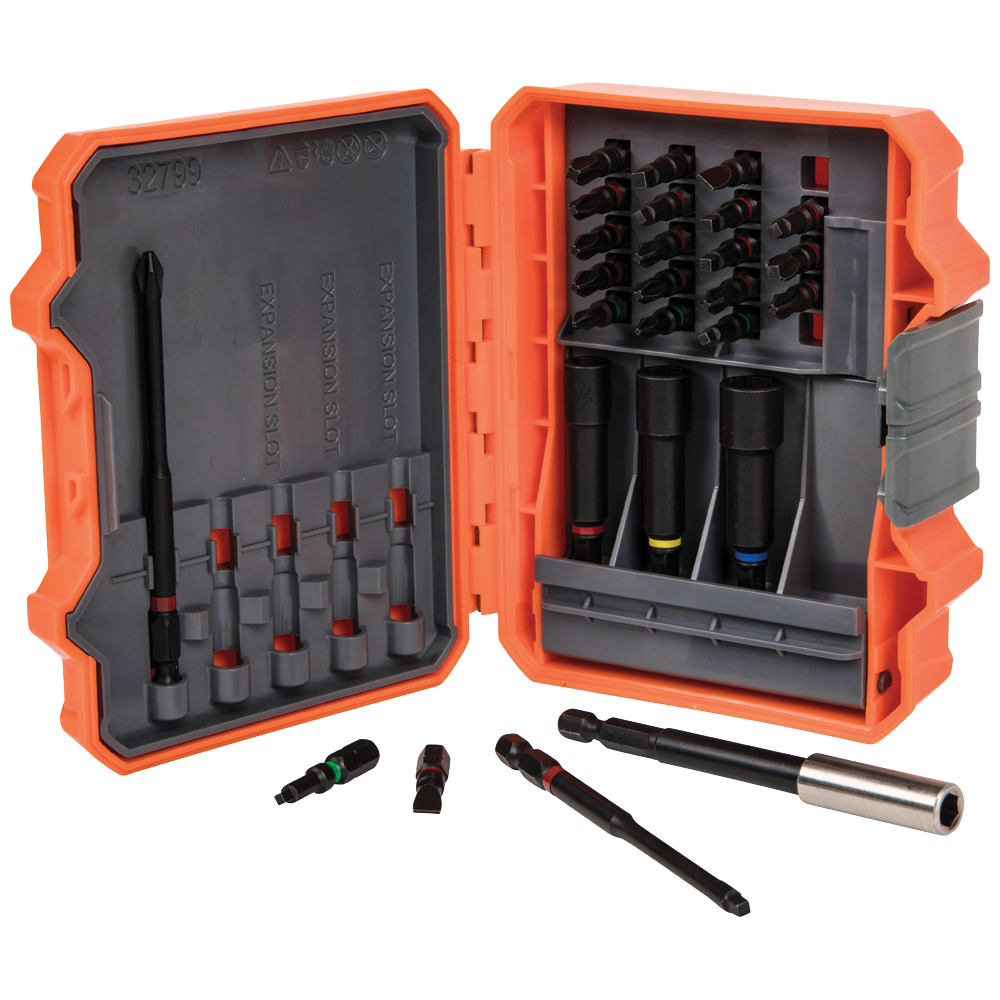 Pro Impact Power Bit Set, 26-Piece (Cat. No. 32799)
Longer pro impact power bits and drivers designed for work on electrical boxes or panels
4-inch bit extension with a strong magnet holds bits in place
1-1/4-inch precision-machined bits are longer and easier to grip than standard 1-inch bits
2-5/8-inch nut drivers reach easily into junction boxes
Extended 4-inch Phillips and Square bits are perfect for use on hard-to-reach fasteners
Minimal chamfering on the nut drivers' hex pockets maximizes performance
Bits fit securely in the included storage case and are color-coded for easy identification:

Phillips, square and combo tips are color-coded by size: green indicates #1 size bits, red indicates #2 size bits and black indicates #3 size bits
Slotted tips and nut drivers use ASME standard color-coding

Carrying case features a spring-loaded stay-shut latch and a hidden storage area for loose bits
Manufactured with S2 impact-rated steel for increased durability and a longer tool life
Replacement bits and packs sold separately (items vary)
"Staying organized between jobs is vital to ensure professionals have the tools they need to complete the day's work," says Raul Rosales, senior product manager at Klein Tools. "Klein Tools' new Pro Impact Power Bit Set makes it easier, and more convenient, to keep necessary nut drivers and bits handy. Tradespeople will benefit from the 26 varying types, sizes and lengths designed for use in common electrical applications, including work on hard-to-reach boxes or panels."
For more information, visit www.kleintools.com/new-products or search for #NewKleins on social media.
About Klein Tools
Since 1857 Klein Tools, a family-owned and operated company, has been designing, developing and manufacturing premium-quality, professional-grade hand tools. The majority of Klein tools are manufactured in plants throughout the United States and are the No. 1 choice among professional electricians and other tradespeople. For more information, visit www.kleintools.com.
Klein is a registered trademark of Klein Tools, Inc.