Klein® Tools Introduces the Conduit Locknut Wrench
Designed to turn a complicated operation into an easy two-hand task
December 16, 2015 (Lincolnshire, IL) – Klein Tools (http://www.kleintools.com), for professionals since 1857, introduces the Conduit Locknut Wrench, an innovative tool designed to easily loosen and tighten conduit connectors in tight or deep cut-in boxes.

Perfect for remodel work where the cut-in boxes are filled with existing wires, the Conduit Locknut Wrench (Cat. No. 56999) features two wrench heads for ½" and ¾" conduit connectors. Using a patented drive shaft, the wrench heads rotate each other when twisted. This eliminates the need for side to side tool movement. Each wrench head also features a hole for a screwdriver as a lever to enable more torque on extra tight connectors.
Conduit Locknut Wrench features include:
Easily attach locknuts in tight or deep cut-in boxes
For ½" and ¾" connector
Heavy duty steel construction enables needed torque for extra tight connections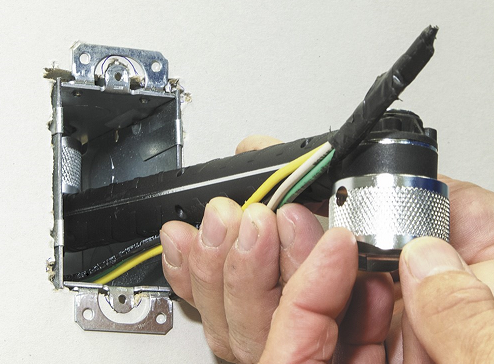 "Typical methods for tightening or loosening conduit connectors, like a hammer and screwdriver, a pair of pliers or your fingers, rarely work well because of the limited range of motion inside a tight or deep cut-in box," says David Mueller, senior product manager at Klein Tools. "The conduit locknut wrench gets into tight spaces that your hands or other tools won't."
For more information, including video, visit our website at www.kleintools.com or contact your local distributor.
# # #
Klein is a registered trademark of Klein Tools, Inc.
Since 1857 Klein Tools, a family-owned and operated company, has been designing, developing and manufacturing premium-quality, professional-grade hand tools. The majority of Klein tools are manufactured in plants throughout the United States and are the number one choice among professional electricians and other tradespeople. For more information, visit www.kleintools.com.