Klein Tools Introduces Coax and Twisted Pair Connectors
Patented Universal Sleeve Makes Coax Connector Installation Up To 5X Faster June 5, 2012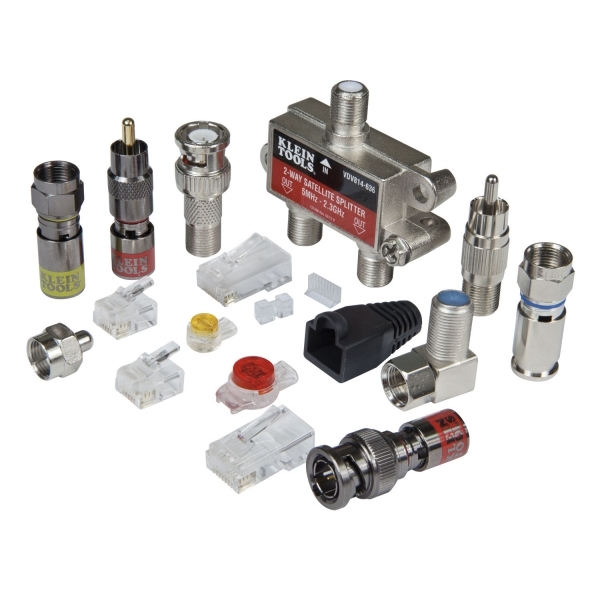 (Lincolnshire, IL) -- Klein Tools (http://www.kleintools.com/) for professionals since 1857, introduces coax and twisted pair cable connectors extending its successful Voice/Data/Video (VDV) line of tools and testers. The patented universal sleeve technology for coax cable connectors reduces both the variety of connectors needed for different cables as well as installation time. Along with our thick gold-plated contact plates on our twisted pair connectors, Klein Tools has created a professional-grade line of products that provide reliable connections and long-lasting performance.
Klein Tools' new universal sleeve coax connectors have an "open sleeve" design that easily fits on all diameter variations within a cable series. It even fits multi-shield and plenum cables which are difficult to terminate. This flexible structure reduces the amount of connectors an installer needs to carry. The patented viewing windows let a user see if the cable is seated properly. With these features, Klein universal coax connectors install up to five times faster than ordinary connectors and deliver the holding power and signal strength required for a strong connection.
Constructed for endurance, the Klein® twisted pair (modular) connectors feature thick, 50 micro-inch gold plating on the contact plates, providing maximum durability to prevent connector failure. The three-pronged solid and stranded wire contacts along with sturdy connector housings and spring clips deliver a sure connection every time.
"By adding coax and twisted pair cable connectors and accessories to our line of tools and testers, Klein Tools is now a one-stop shop for VDV installers," states senior product manager, Dave Mueller. "We looked at the challenges professionals face and designed these products to make installation faster and easier, while reducing inventory needs with flexible-fitting, reliable connectors that save time, money and effort."
# # #