Klein Tools Introduces the All-Purpose Pliers
Combines the functions of a wire stripper and long-nose pliers in one tool
March 18, 2014 (Lincolnshire, IL) – Klein Tools (http://www.kleintools.com), for professionals since 1857, introduces the All-Purpose Pliers, a more durable wire stripping tool that also has the functionality of a long-nose pliers.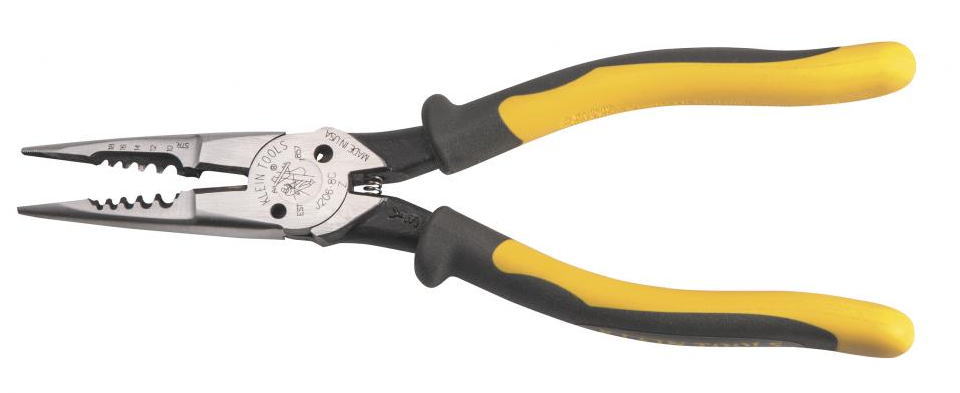 The All-Purpose Pliers (Cat. No. J206-8C) can strip, cut, and loop 8-16 AWG solid and 10-18 AWG stranded wire, plus it has screw shearing holes. These pliers are built of forged steel with induction-hardened cutting knives for maximum durability and long life. The hot-riveted joint also ensures smooth action and no handle wobble. This tool is spring-loaded for self-opening action and features Klein's dual-material Journeyman™ handles that provide a firm grip and added comfort.
"Multi-functional tools, like the All-Purpose Pliers, are becoming more popular among electricians," says senior product manager Gary Lalla. "These tools save time, save money, and save space in the tool belt."
# # #
Klein is a registered trademark of Klein Tools, Inc.
Since 1857 Klein Tools, a family-owned and operated company, has been designing, developing and manufacturing premium-quality, professional-grade hand tools. The majority of Klein tools are manufactured in plants throughout the United States and are the number one choice among professional electricians and other tradespeople. For more information, visit www.kleintools.com.