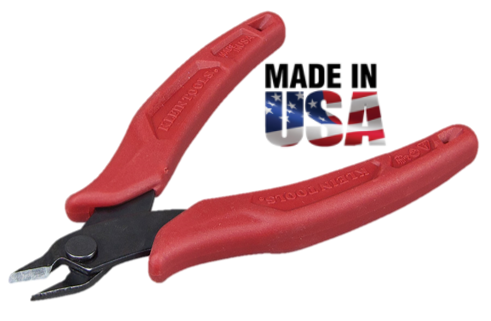 Jan. 8, 2019 (Lincolnshire, Ill.) – Klein Tools (www.kleintools.com), for professionals since 1857, introduces the Precision Flush Cutter for increased control when working in confined spaces. The tool's heat-treated knife design maximizes durability, and its ultra-slim, lightweight profile offers a unique solution for jobs that demand precision and control.
Precision Flush Cutters (Cat. No. D275-5)
Improved knife design snips wire up to 16 AWG to produce flat, flush cuts
Ultra-slim profile enables work in confined spaces
Comfortable grips provide greater tool control
Pinch cutting greatly reduces cutting effort and minimizes fly-off
Heat treated cutting blades increase durability
Steel return spring makes repetitive, all-day cutting easier
Perfect for cutting small wire, zip ties and other fine materials
"Klein Tools' team of engineers, craftsmen and workers developed the new Precision Flush Cutter to enable extended work in hard-to-reach spaces," says Austin Minor, associate product manager at Klein Tools. "Features include an ultra-slim design and heat-treated cutting blades for added control and durability. This U.S.-made tool equips professionals with the precision needed to get the job done when cutting small wires, zip ties and other fine materials."
For more information, visit www.kleintools.com/new-products or search for #NewKleins on social media.
About Klein Tools
Since 1857 Klein Tools, a family-owned and operated company, has been designing, developing and manufacturing premium-quality, professional-grade hand tools. The majority of Klein tools are manufactured in plants throughout the United States and are the No. 1 choice among professional electricians and other tradespeople. For more information, visit www.kleintools.com.
Klein is a registered trademark of Klein Tools, Inc.