Klein Tools Expands Line of Holemaking Products and Accessories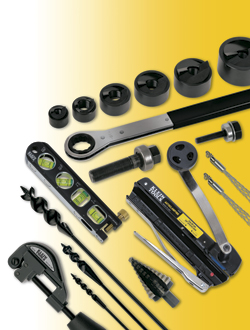 LINCOLNSHIRE, IL – January 2009
Klein Tools has recently expanded its line of holemaking products and accessories to provide more solutions for making holes in drywall and ceiling tile. The high-quality, time-saving product line includes new, flexible drill bits and accessories, knockout punches, a wider range of conduit cutting tools and new levels.
"Professionals gain increased accuracy and consistency with our long-lasting tools," said Steven Relaz, Product Manager, Klein Tools. "Our extensive selection of holemaking tools and accessories provides pros with what they need to be more efficient."
The flex bit augers, used for drilling holes through wood within a wall, feature tapered backs for easy bit retrieval and spring steel shafts that resist deformation. Screw point tips pull the bits through wood and a hole in the tip allows for use with wire or cable pulling grips.
A 6-inch electrician's level (Cat. No. 931-6RE) and a 9-inch torpedo level (Cat. No. 932-9RE) both have large, high-visibility vials and laser-etched markings that are easy to read. Strong Rare Earth magnets firmly hold the level to ferrous metals.
Knockout punch sets cut holes cleanly and accurately through 10-gauge steel, aluminum, fiberglass and plastic. The knockout punch kit (Cat. No. 53732) includes a ratcheting wrench, knockout punches, dies and draw studs for ½", ¾", 1", 1 ¼", 1 ½", and 2" conduit sizes.
Step drill bits are designed with permanent laser-etched hole sizes that are easy to read. Their self-starting tips drill through most metals, plastic and wood. Additional products in the line, such as ship-augers bits, hole saws, conical anchors and pulling grips, are designed to integrate effectively with Klein's holemaking products to help get the job done.
Product specifications and catalog information can be found at www.kleintools.com.