Klein Tools Expands Its High-Visibility Tool Line
Drivers now available with glow-in-the-dark handles
November 18, 2015 (Lincolnshire, IL) – Klein Tools (http://www.kleintools.com), for professionals since 1857, expands its popular line of high-visibility (Hi-Viz) tools to include three new driver products. The Hi-Viz drivers features Klein's exclusive glow-in-the-dark handles to easily locate tools in the dark or dimly lit places.
Klein's Hi-Viz tools are designed to help electricians find their tools in low or no light environments such as ceilings, walls, closets, attics, basements, etc. The handles charge in either natural or artificial light, creating a bright glow that lasts over 30 minutes.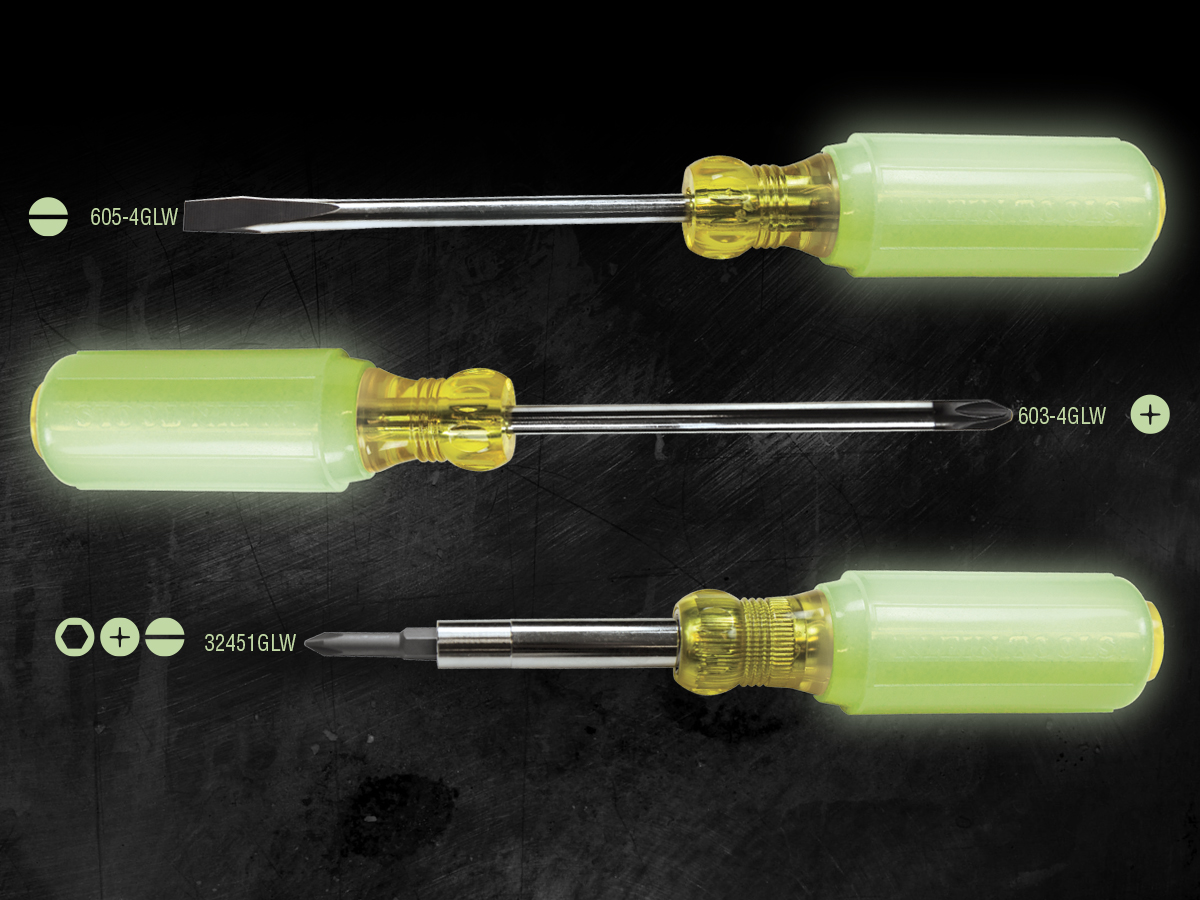 The chrome-finished Hi-Viz drivers come with the iconic Cushion-Grip handle for better torque and less fatigue. Available models include:
• Hi-Viz #2 Phillips Screwdriver (Cat. No. 603-4GLW)
• Hi-Viz ¼" (6 mm) Cabinet-Tip Screwdriver (Cat. No. 605-4GLW)
• Hi-Viz 6-in-1 Multi-Bit Screwdriver/Nut Driver (Cat. No. 32451-GLW)
o #1 & #2 Phillips
o 3/16" & ¼" (5 mm & 6 mm) slotted
o 5/16" & ¼" hex
"Tradespeople often work on job sites that lack electricity or proper lighting which lead to lost tools that not only slow down the job and cause potential hazards but, can be very costly to replace," stated Raul Rosales, senior product manager at Klein Tools. "With high visibility tools, they can find their tool immediately without fumbling in a bag or in the dark, eliminating lost tools and lost time while increasing safety."
Other products available with high-visibility handles include:
• Hi-Viz Side-Cutting Pliers – High Leverage (Cat. No. D20009NEGLW)
• Hi-Viz Diagonal-Cutting Pliers – High Leverage (Cat. No. D200028GLW)
• Hi-Viz Diagonal-Cutting Pliers – Angled-Head High Leverage (Cat. No. D248-8-GLW)
• Hi-Viz Long-Nose Pliers – Heavy Duty Side-Cutting (Cat. No. D203-8-GLW)
• Hi-Viz Wire Stripper/Cutter (Cat. No. 11054GLW)
For more details, including video , visit www.kleintools.com or your nearest distributor.
# # #
Klein is a registered trademark and Journeyman is a trademark of Klein Tools, Inc.
Since 1857 Klein Tools, a family-owned and operated company, has been designing, developing and manufacturing premium-quality, professional-grade hand tools. The majority of Klein tools are manufactured in plants throughout the United States and are the number one choice among professional electricians and other tradespeople. For more information, visit www.kleintools.com.