Klein Tools and Johnstone Supply Award ATV Prize
Greenfield, Indiana man wins Yamaha Grizzly ATV worth $6,750
August 17, 2014 (Indianapolis, IN) – Klein Tools, (http://www.kleintools.com/) for professionals since 1857, and Johnstone Supply (http://www.johnstonesupply.com/), the leading cooperative wholesale distributor in the HACR industry, are proud to announce Brad Wuchner of Greenfield, Indiana as the winner of the 2014 Yamaha Grizzly 450 All-Terrain Vehicle (ATV) giveaway.
Thousands of HVACR technicians and installers entered the promotion at Johnstone Supply locations across the country. It was Brad Wuchner's trip to purchase tools and supplies at the Johnstone in Indianapolis, IN, that won him the ATV plus the envy of outdoorsmen everywhere.
"I'm overwhelmed," said Brad Wuchner. "You always expect a lot when you buy Klein Tools, but I never expected to win an ATV." "Brad is a great guy and a great technician," stated Fred Hubbard, customer solutions manager of sales and operations at Johnstone Supply in Indianapolis. "We are happy for Brad and can't wait for him to let us take the ATV for a ride."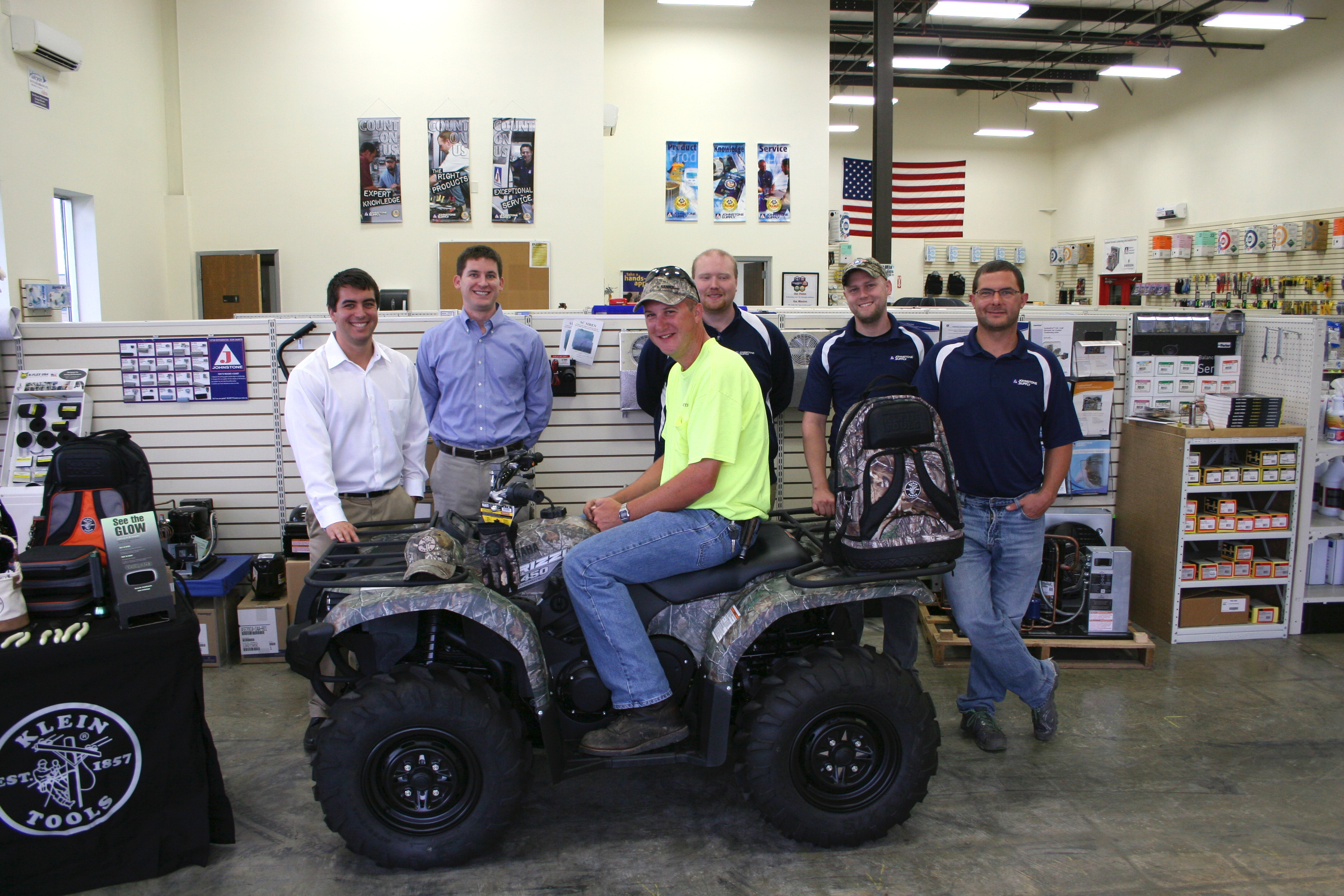 From left to right: Jacob Robinson - Thomas J. Finnegan Co., Cameron Grimme - Johnstone Supply, winner Brad Wuchner, Jesse Huber - Johnstone Supply, Seth Conger - Johnstone Supply, Christian Binger - Indianapolis east branch manager of Johnstone Supply
# # #
Klein is a registered trademark of Klein Tools, Inc.
Yamaha and Grizzly are trademarks or registered trademarks of Yamaha Motor Corporation USA.
Since 1857 Klein Tools, a family-owned and operated company, has been designing, developing and manufacturing premium-quality, professional-grade hand tools. The majority of Klein tools are manufactured in seven plants throughout the United States and are the number one choice among professional electricians and other tradespeople. For more information, visit www.kleintools.com.