Sparta, NC Man Wins 17' Fishing Boat worth $14,000
October 30, 2013 (Charlotte, NC) – Klein Tools, (http://www.kleintools.com/) for professionals since 1857, partnered with City Electric Supply (http://www.cityelectricsupply.com/), a family-owned electrical wholesale business, for the Reel Power Drivers promotion to raise awareness of Klein Tools' new line of power tool accessories. Hundreds of electricians entered the promotion at City Electric Supply locations across the country to try to win a 17' Carolina Skiff® Fishing Boat.
Klein Tools' new made in the USA power tool accessories include multi-bit power drivers, power nut drivers, power conduit reamers and power drivers. These impact-rated accessories have the same functionality, quality and performance tradespeople have come to expect from Klein -- now available for drills.
Robbie Joines, an electrical contractor from Sparta, NC, was the winner of the Reel Power Driver promotion that started in June of this year. His trip, to purchase a Klein Tools Multi-Bit Power Driver at the University City Electric Supply in Charlotte, NC, won him a 2013 17' Carolina Skiff JV17 Boat with a 40HP outboard motor and trailer plus the envy of fishermen everywhere.
"I'm overwhelmed," said Robbie Joines "You always expect a lot when you buy Klein Tools, but I never expected to win this boat."
"Robbie is a great guy and a great electrician," stated Jeff Burris, Branch Manager of University City Electric Supply in Charlotte, North Carolina. "We are happy for him and can't wait for him to take us fishing."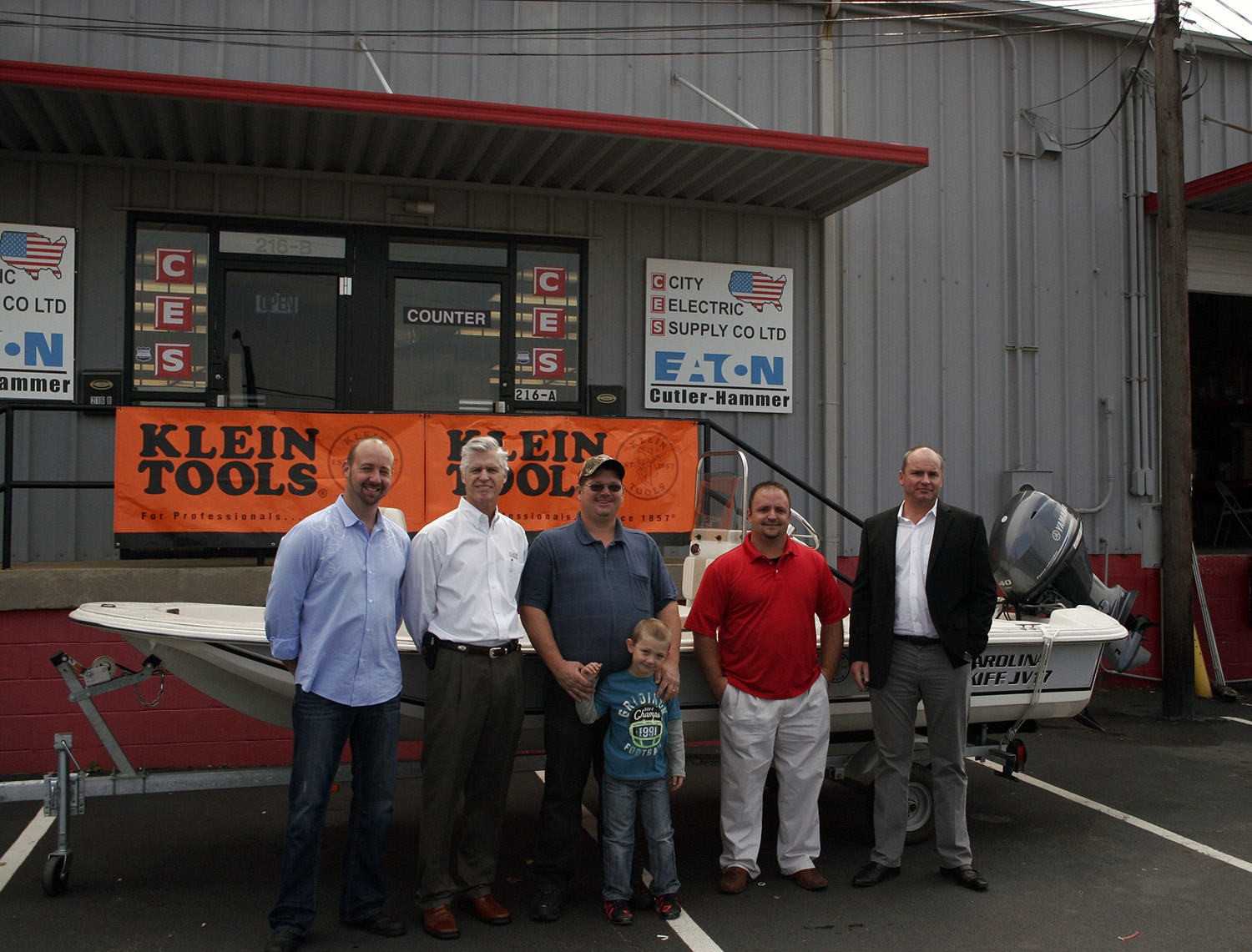 From left to right: John Nantz, City Electric Supply group manager; Alan Frakes, Klein Tools vice president North American sales east; Robert Joines, winner; Jeff Burris, City Electric Supply branch manager; John Gray, City Electric Supply general manager
# # #
Klein is a registered trademark of Klein Tools, Inc.
Carolina Skiff is a registered trademark of Carolina Skiff, LLC