July 10, 2014 (Lincolnshire, IL) –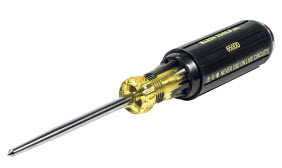 Klein Tools (http://www.kleintools.com), for professionals since 1857, announced the release of two additions to their popular demolition series of hand tools.
Made in the USA, demolition drivers are designed to take a beating and deliver a beating. Klein now offers demolition versions of the #2 Phillips (SKU 603-4DD) screwdriver and Punch-Scratch Awl (SKU 650-DD). Both feature a plated metal strike cap that protects the handle from hammer blows. The traditional Cushion-Grip handle provides greater torque and comfort.
"Our demolition drivers are extremely popular among the professional tradesmen who need tools that will take the abuse on the jobsite," states Jon Ginsberg, product manager at Klein Tools. "The addition of both the #2 Phillips and Punch-Scratch Awl addresses the feedback from the field that the pros want more models with the same tenacity".
For more information including video, visit our website at www.kleintools.com or contact your local distributor.