EC&M Magazine Announces Klein Tools Wins 2015 Product of the Year
Klein Tools' All-Purpose Pliers Receives Accolades for Multi-Functional Design
August 24, 2015 (Lincolnshire, IL) – Klein Tools (http://www.kleintools.com), for professionals since 1857, was awarded the 2015 Product of the Year award for its All-Purpose Pliers (Cat. No. J206-8C) by Electrical, Construction & Maintenance Magazine. This product combines the functions of a wire stripper and long-nose pliers into one tool.
All-Purpose Pliers (Cat. No. J206-8C) features:

• Strips and cuts 8-16 AWG solid and 10-18 AWG stranded wire
• Needle nose design grabs and loops wire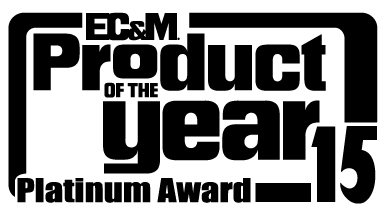 • Includes shearing holes for 6-32 and 8-32 screws
• Built of forged steel for maximum durability
• Induction-hardened cutting knives engineered for long life
• Hot-riveted joint ensures smooth action and no handle wobble
• Handle is spring-loaded for self-opening action
• Dual-material Journeyman™ handles provide a firm grip and added comfort
• Made in the U.S.A.
"Many electrical workers are drawn to tools and equipment that can perform more than a single function," said Mike Eby, editor of Electrical, Construction & Maintenance Magazine. "This multi-purpose hand tool is a perfect fit for electricians that are looking to lighten up their tool bag."
"Klein is constantly researching ways to make products more functional," states David Klein, product manager at Klein Tools. "The All-Purpose Pliers are long-nose pliers with the added functionality of durable and precise wire stripping holes – all in a single tool. The benefits for the tradesmen includes saving time and money, as well as space and weight in their tool belts."
Klein is a registered trademark of Klein Tools, Inc.

Since 1857 Klein Tools, a family-owned and operated company, has been designing, developing and manufacturing premium-quality, professional-grade hand tools. The majority of Klein tools are manufactured in plants throughout the United States and are the number one choice among professional electricians and other tradespeople. For more information, visit www.kleintools.com.