November 9, 2023 (Lincolnshire, Ill.) – Klein Tools (www.kleintools.com), for professionals since 1857, introduces the new Digital Angle Finder, offering best in class accuracy for finding measurements for inside and outside angles and lengths, and calculating miter saw angles. 
Image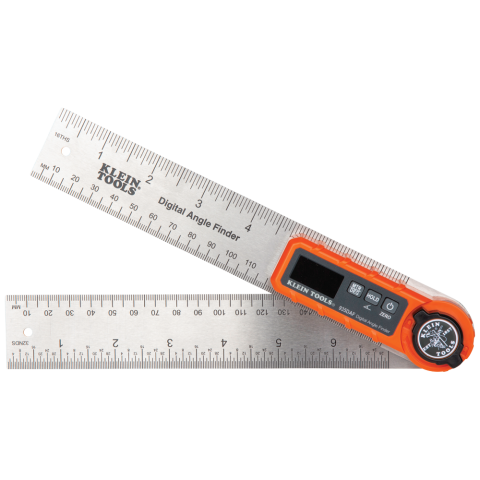 Digital Angle Finder (Cat. No. 935DAF)
3-in-1 Digital Angler Finder provides precision measurements for inside and outside angles and lengths, and calculates simple miter cut angles 

Efficient digital miter saw protractor function calculates the needed saw blade angle to cut miter joints with a perfect fit every time

Machined ruler edges measure inside and outside angles with an accuracy of +/- 0.2˚

Bright white LED display provides easy visibility in all lighting conditions

Durable, rust resistant metallic ruler with deeply etched markings for long lasting clear readings

Powered by a single AAA battery for an extended working lifetime

Compact design that is easy to store and carry around in pockets
"Making accurate measurements the first time is crucial for ensuring that professionals get the correct lengths and angles, and don't waste precious time and materials," says Amy Hart, associate director of product management at Klein Tools. "With Klein Tools' new Digital Angle Finder, you can get precise measurements on lengths and angles, all on an easy-to-read bright white LED display. With a durable, rust resistant metallic ruler and deeply etched markings, this tool is built to give you long lasting, clear and accurate readings on all your jobsites."  
For more information, visit www.kleintools.com/new-products or search for #NewKleins on social media.
About Klein Tools
Known by trade professionals worldwide as a premier manufacturer of hand tools, Klein Tools is a family-owned and operated company. Since 1857, Klein Tools has prided itself on designing, developing and manufacturing a wide variety of best-in-class, precision Made in the USA products including pliers, wire strippers, screwdrivers, cutting, crimping tools, and more. Klein Tools remains the number one choice among electricians, ironworkers, HVAC Technicians, and other trade professionals. For more information, visit www.kleintools.com
Klein is a registered trademark of Klein Tools, Inc.