Shape Matters: A Klein Tools Guide to Common Screwdriver Designs
Mastering the perfect tool handling technique can take years of on-the-job experience. Using a screwdriver properly, however, goes without explanation for skilled professionals, first-day apprentices and homeowners alike. Although they are not the most complicated tools, Klein Tools Screwdrivers and Nut Drivers feature varying tip types, hex sizes, shaft lengths and handle designs to help tradespeople across all fields find a tool job-matched for the work they do.
Professionals recognize Klein Tools Screwdrivers by just a few key characteristics, including:
Cushion-Grip or Comfordome® handles for maximized torque and comfort
Twist-resistant blade anchors inside the handle
Heat-treated, chrome-plated shanks for corrosion resistance and added durability
Tip-Ident® to quickly identify the type of screwdriver
Precision-machined tips for exact fit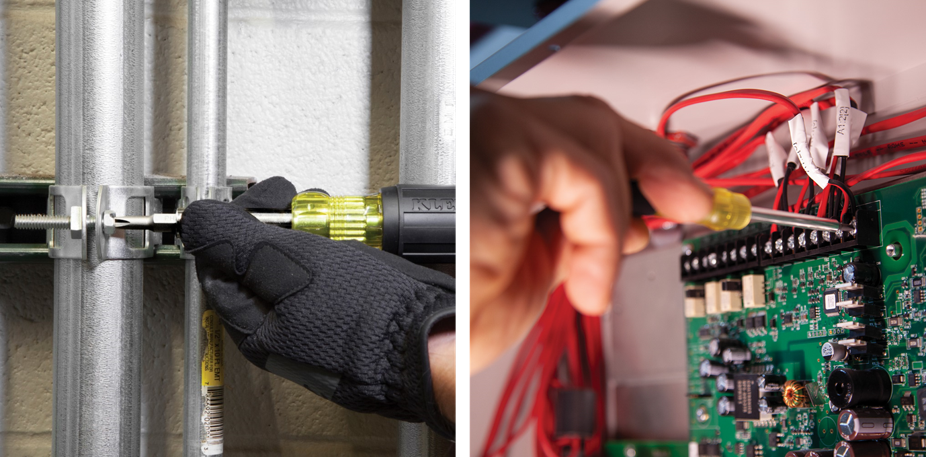 From versatile Multi-Bit Screwdrivers/Nut Drivers to Precision Electronic Screwdrivers, Klein Tools offers optimum torque solutions to get the job done day-in and day-out.
How can you determine which screwdriver model is meant for the task at hand? Identifying the tip shape is a good place to start. Check out these six commonly used tip designs, each one with a designated purpose:
Keystone– Also commonly referred to on the jobsite as, "flat head," the keystone tip is a single, flat shape with tapered blade sides to maximize tool durability and withstand more torque. It is designed for use with a slotted screw head only, and while it can be used with a power driver, this isn't commonly recommended because of the damage caused by driver slippage.
Cabinet– Due to their similarities, the average Joe might confuse cabinet tips with keystone. Both designs feature the flat head shape, however, cabinet tips have a straight blade profile. The tip and blade have the same width, which comes in handy when reaching into confined spaces where screws are recessed.
Phillips– Phillips, or cross head, tips were invented in the early 1930s for use in car assembly lines, meeting a demand for greater torque and tighter fastenings. Today, they are used widely in almost every industry.
Combo Recess– Electrical devices and conduit fittings often use combination-head screws. Instead of professionals having to rely on either a flat head or Phillips screwdriver, the combination-tip features elements from both designs for maximum contact.
Square – The square "Robertson" tip was introduced in the early 1900s to avoid the driver slippage professionals experienced when using a flat head. This screwdriver design is self-centering and enables easy one-handed driving with a secure fit.
TORX® – Automotive and electronic applications often use TORX® driver tips. The six rounded points increase torque transfer and reduce operator fatigue by minimizing the needed driving force.
Other screwdriver tip shapes include the Schrader® Bit, which is commonly used in HVAC applications, but many more variations are available to help all professionals get the job done with comfort, and ease. Some screwdriver models even feature magnetic bits to easily hold screws in place. And for those that don't, Klein's Magnetizer/Demagnetizer (Cat. No. MAG2) uses rare earth magnets to easily magnetize or demagenetize screwdriver tips and bits.
Which Klein Tools Screwdriver and/or Nut Driver do you depend on to get the job done? Share your jobsite experiences with us on social media.