Getting to Know the 2018 Electrician of the Year Regional Winners
Posted on:
August 30, 2018
Don't look away yet - there's still a blitz on the field!
Klein Tools learned more about this year's six regional winners while visiting Mansfield, Texas, and we want you to have the inside scoop. From how they got started in the trades, to how they remain dedicated to safety throughout their communities, these MVP's each have a story worth telling, and reading.
If you haven't already cast your vote for Klein Tools' 2018 Electrician of the Year, check out the following instant replay to get to know the regional winners a little closer.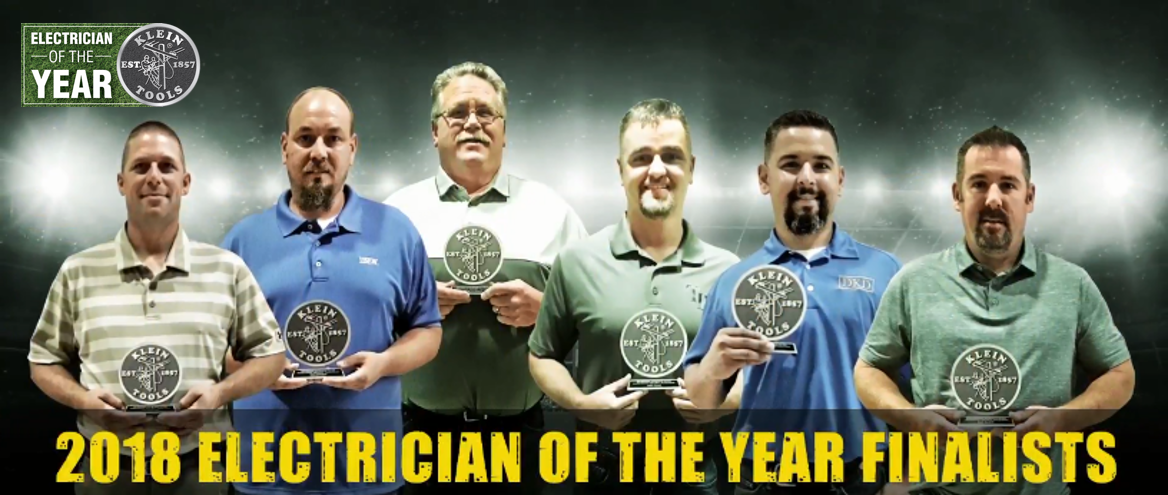 Steve Heryford's career kicked off in the U.S. Navy, where he had the opportunity to work on a wide range of electrical applications. From residential wiring to motor rewinding, his experiences equipped him with the vast skills needed to be successful in the trades. Currently, Steve serves as the supervising electrician for the Klamath County school district.

Off the jobsite, Steve remains busy, instructing apprenticeship and hunting safety classes as well as coaching and refereeing high school basketball. Through it all, safety remains a priority as he holds himself accountable and leads by example for the next generation.

From pumpkin spice lattes one day to proudly working in a ditch the next, John Spier worked his way through the trades from the ground up – all thanks to a friend who asked if he wanted to be an electrician. With his role as a mentor to local apprentices, John uses his personal story to inspire the next generation of the many opportunities the trades hold.

His pride for the trades runs deep, which is why getting the job done right is so important. As a project manager and service coordinator, John enforces strict safety policies that keep personal protection equipment as a last means of defense after getting the job done correctly and safely the first time.

Right after high school, Dave Elliott attended technical school and started working in the HVAC field. His interest in the trades sparked when working alongside electricians, however, so that's when he decided to switch gears. While teaching himself the basics of the trade and continuing to earn his credentials, he started taking on small jobs. Eventually, he was hired by Wendy's and has worked there for 14 years.

Now, Dave manages all electric, HVAC, refrigeration and plumbing systems for 18 restaurant locations. With 75 percent of all equipment containing an electrical component, this is no easy feat. While tending to the day's challenges, he also ensures the safety of 600 to 700 young employees, which he recognizes as one of the most important aspects to the job.

With a childhood interest in how things work, it feels almost like destiny that Pat Schwent has dedicated himself to a career in the trades. Pat is not only well-known as a Journeyman wireman, but also as a volunteer firefighter and chaplain.

When it comes to leading the next generation, he teaches that while any DIY-er can learn how to get the job done, professional electricians play a crucial role in ensuring safety and completing high-quality work. Handling electricity is no joke, and he and his team stay on top of their game every day, 365 days a year.

Working in the trades isn't just a career for Mike Adams. No, it's a family tradition dating back four generations. With his mom, dad, uncles and cousins working by his side, there was never a doubt that Mike would grow to love and live by the rules of the trades.

Through his years as an electrician, Mike learned the importance of proper safety procedures and a dedication to even the smallest details of a job. He instills these lessons in the next generation of electricians as an advisor for SkillsUSA where he has helped lead many students to success in regional and national competitions.

As a lineman, a big part of Tom Johnson's job includes ensuring that he and his brothers and sisters on the line make it home to their families after a long day's work. To do so, he never allows shortcuts and helps provide his team with what is needed to get the job done safely.

Tom's passion for the industry and fellow tradespeople doesn't stop there. His commitment is evident with his founding of the National Sisterhood United for Journeymen Linemen (NSUJL), a nonprofit organization dedicated to assisting fallen or injured IBEW Journeymen Linemen.
Join the Action
Here's where Klein Tools needs YOUR help. Cast your own fan vote* on Sept. 3-7 to help choose who becomes Klein's 2018 Electrician of the Year. Remember, the stakes are high – the grand prize winner will receive a trip to the Big Game 2019 and exclusive Klein Tools prizes.
The game continues on Sept. 20. Stay tuned for the grand prize winner announcement via Facebook Live. For more information on these winners, the Electrician of the Year award and the fan voting period, please visit http://www.kleintools.com/eoy.
*A Klein Tools selection team, consisting of five Klein family members, will use the fan vote as one of four selection criteria to select the winner.