LARGEST WHEELS
Durable 10" solid rubber wheels for smoother transport up stairs
ATTACH ACCESSORIES
Built-in side rails fit attachments with easy removal for reconfigurations
LOWEST PROFILE
Fits under truck bed covers and small spaces once handle is removed
BACK STOWAGE
Transport tall items in back and bring more to the jobsite

Welcome to the Builderverse
+Add:
Click to add to MOD Build. Hover for details.
View All
Toolboxes
Tool Bags & Cooler
Side Rail Attachments
Internal Accessories

NOTICE: Exceeds Maximum Height for Safe Transport. DO NOT stack higher than 6'.
Demo purposes only. Refer to product specifications for dimensions and weight capacity prior to use.
Tipping hazards may exist with uneven loading or stacking above shoulder height.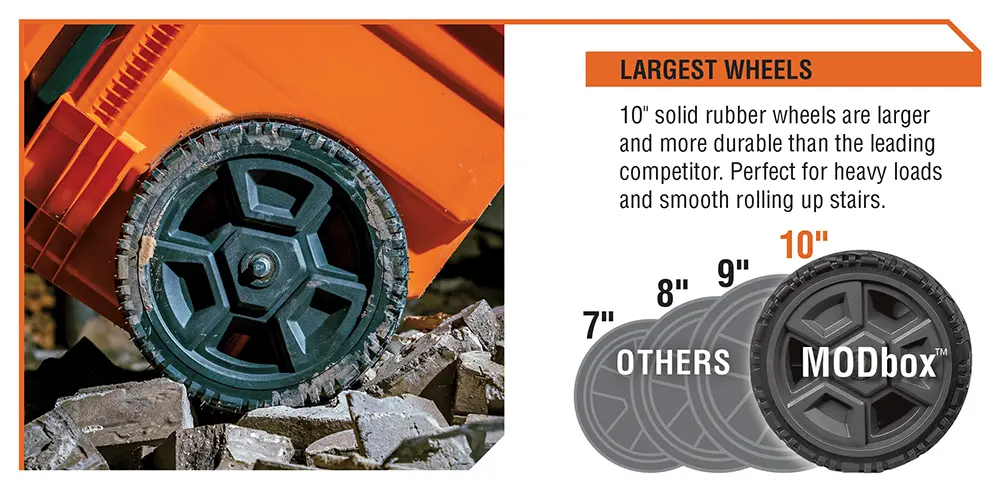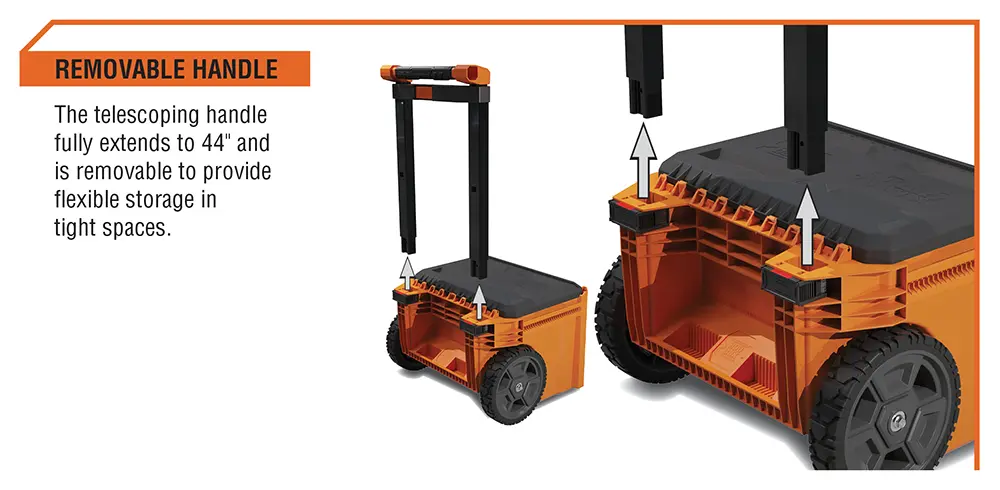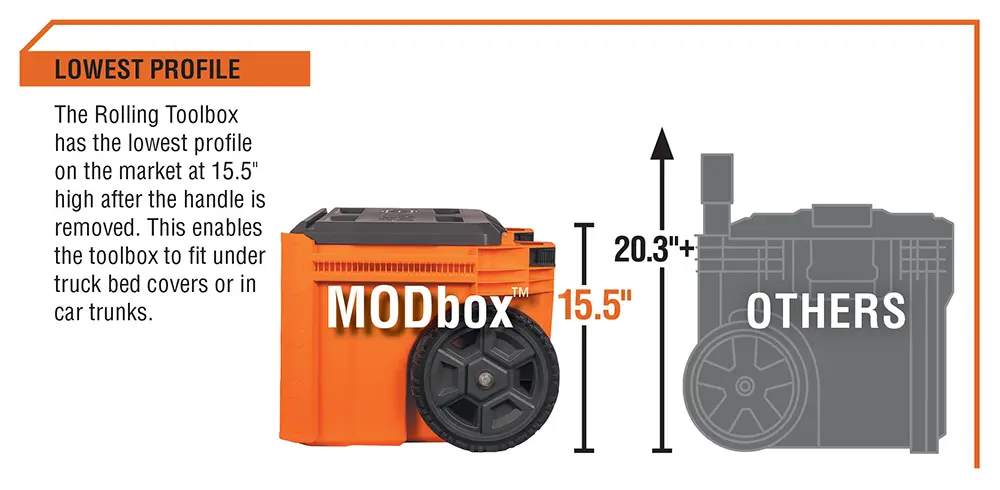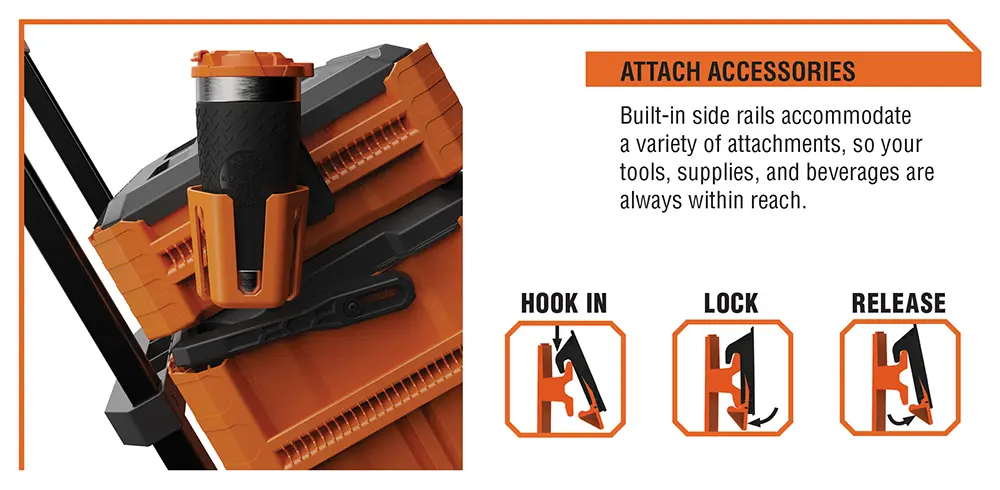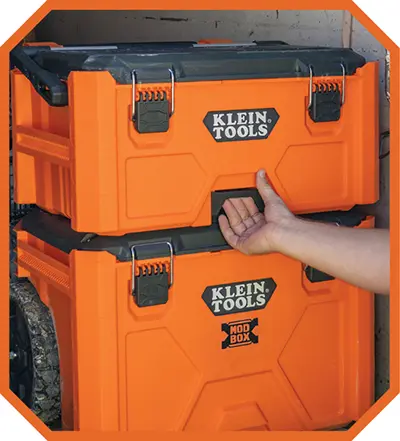 ONE-HAND RELEASE
Components interconnect for a customized modular tool storage system and easily release for quick removal and reconfiguration.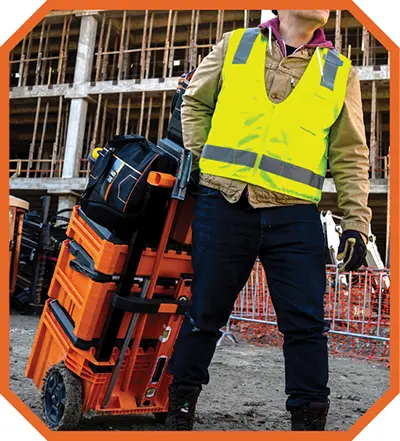 BACK STOWAGE
Items that are long and awkward to carry, such as benders and fish rods, can be stored in the back of the Rolling Toolbox for easy stowage.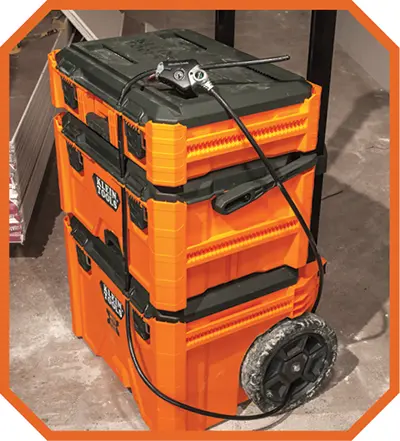 CABLE LOCK READY
Steel reinforced lock locations can be used to wrap a cable lock through, including the opening between wheel spokes to prevent rolling.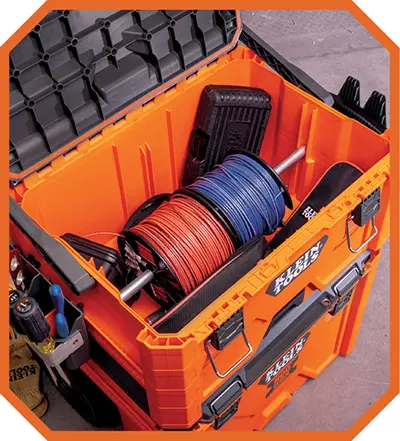 DISPENSE WIRE
Molded-in divider slots dual function as receiving slot for 1/2" EMT conduit for easy wire dispensing; featured on Medium Toolbox (patent pending) and Rolling Toolbox.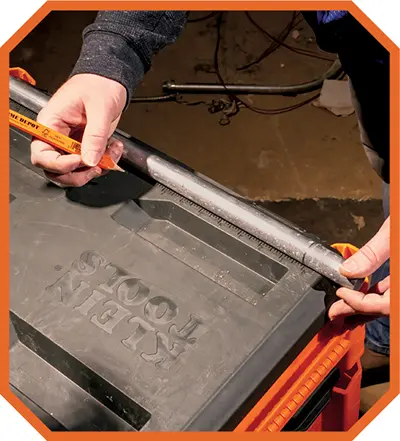 V-GROOVE WITH RULER
Lids feature a V-groove that nests conduit and similar materials. Use the molded-in ruler to take measurements.

...MODbox is a lot easier to use than the other one I had because it's a lot easier to take apart, get in my car and roll around a jobsite.
John W.


The difference from other boxes is the accessories, I can carry so much more without having to have so much in a box – a lot of it is already accessible outside.
Manuel R.


The way that the rails are set up makes it really easy to adjust and take off anything I need.
Andrew P.

Click a product to add it to your MOD Build.
Hover over a product for details. Click details icon for even more product details.
Some products can be placed in multiple locations and will require an additional click to place in the location you want.
The Multi-hook Attachment (54816MB) comes in a two-pack and you are required to place two of them on your MOD Build.
Some products are internal only (they attach to the inside of a tool box). These products will show up in your MOD Build list, but will not be visible on the platform.
Click the

or

below the builder to view that side of your MOD Build.
Undo will remove the last item added to the MOD Build. Reset will remove all of the products and you will start over.
Welcome to the Klein Tools MODbox™ Builderverse!
Note that if using a mobile device or a small screen, some features of the Builderverse will be limited. For an optimized building experience, please use a larger display device.