Klein Tools Announces an Innovative New Line of Fish Tapes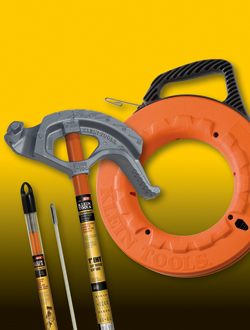 LINCOLNSHIRE, IL – March 2009
Klein Tools introduces a new line of 14 Fish Tapes under the Depthfinder™ and Navigator™ names. Depthfinder™ Fish Tapes feature high strength flat steel for pushing and pulling wire and Navigator™ Fish Tapes are designed to be extremely flexible for moving through conduit runs with multiple bends. The length of the new Tapes range from 25' – 240,' and are available in the most commonly used materials – Steel, Stainless Steel, Spiral Wound, Nylon and Fiberglass.

A true category innovation found on all Depthfinder™ flat steel tapes is an exclusive time and effort saving feature – permanent laser-etched markings every one foot on the entire length of the tape.

"Tradesmen interviewed acknowledged high value in the concept of 'length-marking' a Fish Tape. The markings could be used to measure conduit runs, locate stops, or tell them how much tape remains on their reels," said Vince Kendzierski, product manager, Klein Tools. Using an exclusive manufacturing process, Klein developed a way to add marks to a flat steel Fish Tape that will never wear off. "The goal for Depthfinder™ was to make the marks permanent without compromising the steel strength, so we used a laser that changes the color of the steel surface. The tapes are marked in descending numerical order so if a portion of it is ever cut off, you can immediately see how much remains on the reel."

In addition to length marking, Klein focused their development on end user comfort and reducing jobsite effort. The 9" and 13" diameter Fish Tapes feature a unique sloped handle to optimize hand positioning for quick hand-over-hand rewinds. The cases feature raised fingergrips for a secure grip and a round inner ring design to provide a smooth and consistent surface for rewinding. To reduce effort on the job, these tapes are 1'' larger than the industry standard, meaning up to 15% more tape can be wound with each revolution.

In terms of durability, this new product line is among the Industry's toughest. "We experienced excellent results across the entire Fish Tape line when dropping the tapes repeatedly from a 25' height," said Kendzierski. In-house lab testing showed that all sizes of Klein Fish Tapes remained fully functional after 20 drops from this height.

Product specifications and catalog information on Fish Tapes can be found at www.kleintools.com.

Klein Tools, Inc. is a leading manufacturer of professional hand tools and occupational protective equipment.
For more information on Fish Tapes, please contact: Klein Tools, P.O. Box 1418, Lincolnshire, IL 60069-1418.