Insulated Tools Save Lives
One of scariest parts of being a trade professional in the electrical field is the possibility of getting hurt, specifically the risk of electrocution. It is estimated that there are up to 30,000 nonfatal shock injuries each year, many of which do not get reported. When looking at reported injuries, there are around 300 deaths and 4,000 electrical related injuries among the U.S. workforce each year, ranking electrocution sixth among causes of work place death in the United States.
A commitment to protecting electricians has always been a priority of Klein Tools. Over the years, we at Klein have heard numerous stories about how insulated tools have saved the lives of users. Take a look at one such story below, from Klein Tools user John OConnor:
"A pair of Klein linesman pliers saved my father's life.

56 years ago (when I was 14), I helped my father do electrical work during my summer vacation from school.

He was rewiring an old farmhouse for a lady. The meter was pulled and range and main fuse blocks were pulled so in practice, there shouldn't and couldn't be any power in the house.

Dad was in a crawl space and was removing all the wire in there. He reached up with his brand-new Klein linesman pliers to cut the 240-volt line to the electric hot water heater.

His arm from the elbow disappears in a blue fireball! KABOOM!

He looks at me and says, "WTF was THAT!" (like I'd know what it was!)

He has molten steel (from the pliers) and molten copper on his trifocal glasses (which saved his eyes).

The pliers are missing the jaws from the swivel point out! The insulated handles of the pliers kept him from being killed!

Now, you may wonder where the electricity came from.

Dad investigated and found that the old farmer (who was long gone dead) had drilled into the back of the meter and soldered in lead to the HWH on the pole side shunting the meter!

NYSEG shows up a while later and asked what happened. Dad shows them the shunt. They go up on the pole and remove the entrance cables from there to the house, rip the meter off the siding so now there is NO power.

They tell me that he tripped the breakers on the pole that fed 5 houses which were over 1,000 amps!

Dad shows them the Klein plier and they said "Carty (his nickname), those pliers are the best on the market and they saved your life!"
Klein Tools has made a concerted effort in recent years to continue offering electrical professionals as much protection as possible, expanding the number of tools that we offer in insulated versions, and building sets of common tools to make it easier for users to stock their tool bags with insulated options. Pliers, cable cutter, screwdrivers and nut drivers, wire strippers and wire cutters are all available from Klein Tools as insulated options. The tools that feature a bright orange appearance are insulated models, offering protection up to 1000V (and clearly marked with the symbol indicating this). Additionally, the tools orange coating offers flame retardant and impact resistance, giving an extra layer of protection to users.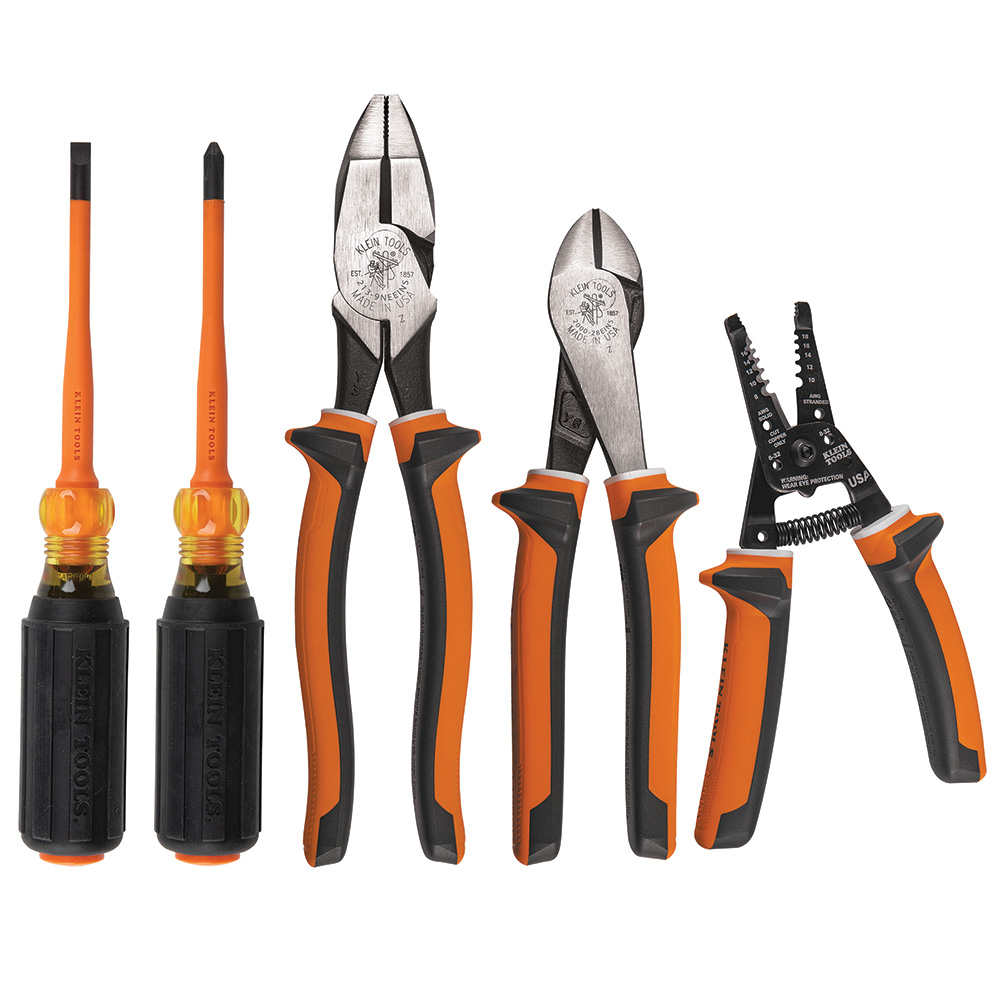 Have you had an experience where insulated tools protected you from getting hurt? What tools do you find most useful to have insulated models of? Tell us about your experiences on social media!