Shout-out to Our Sisters: We Can Do It!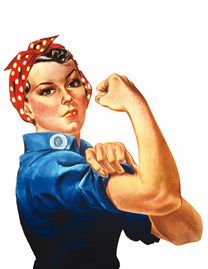 The world wars rocked the traditionally male-dominated American workforce. For the first time in U.S. history, women were encouraged to take on physically demanding – and often higher-paying – factory jobs. Female welders, machine operators and, of course, Rosie the Riveter, flipped the public perception of American women, opening doors to new opportunities in skilled trades.
When the wartime demand for industrial production and factory work faded, however, women were expected to hang up their slacks and resume their traditional administrative or household roles.
More than 70 years and several waves of women's liberation later, the gender divide among skilled trades is still clear. It's shrinking, however, thanks to women like Darlene Stokes, director of boot camp at the Electrical Industry Training Center, part of the International Brotherhood of Electrical Workers (IBEW) Local Union No. 3. At the beginning of her career, Stokes was certainly on the leading-edge of women in the electrical industry.
"I had no idea what I was getting into," Stokes says. "There weren't very many of us in the industry at that time, but most of the women were really looking to succeed as electricians."
From Corrections to Construction
In the early 1990s, budget cuts led to Stokes being laid off from the New York Department of Corrections. She had decent work experience but only a high school education, so her next step wasn't immediately clear. Her dad's union, the Local No. 3, was looking to add more women to its ranks, so she took his advice and went out for an apprenticeship.
"In '93 and '94, the unions were really trying to bring women in. I lucked out in that way, since there wasn't a waiting list at the time," Stokes says. "I had never worked with my dad, though, so it was all new to me."
Her first year into the apprenticeship, Stokes was busier than ever trying to juggle school with family life. Being a woman in the industry also presented challenges but, when it came to doing the work, she had didn't have to look far to see proof of success.
"I met a woman, Maureen Steiger, during my first year at my company who had just become a mechanic," Stokes says. "She was smaller than I was and I saw that if she could do it, I could do it. She definitely pushed me to do different things throughout my career."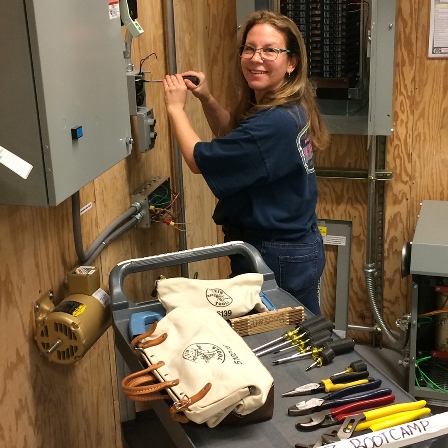 Stokes working in one of the training booths at the Electrical Industry Training Center Boot Camp.
Making History with Amber Light Society

Once she got a handle on juggling her marriage, kids and physically demanding apprenticeship, Stokes wanted to become more involved with the union. Her timing was great, again, as the Local No. 3 had just approved the formation of a new, entirely female club: Amber Light Society.
"I'm proud to say that I'm an original member of Amber Light Society," Stokes says. "I wanted to be part of history, so that first day of the club I joined the founding members to take an oath to uphold the club's mission to support the work, support the union and support all sisters in the industry."
Amber Light Society formed from the Women's "A" committee within the Local No. 3. As a club, it's part of the Electrical Workers Minority Caucus (EWMC), a support and networking system within the IBEW that also provides education and training to strengthen the diversity and opportunities among members.
"Within Amber Light Society, we get together and do community services in addition to providing support to help guide members through emotional, family and job-related issues," Stokes says. "We also get together one week a year with hundreds of people from the EWMC to do community service together. Young members can really get a lot out of it."
Overcoming the Obvious Differences
Women who work in traditionally male-dominated fields deal with unique challenges on the job. Specifically, many women face gender-based or sexual harassment immediately upon entering the trades. Stokes says that it's important to know how to handle harassment and inappropriate comments going in so that it doesn't disrupt your work too much. Coming from the corrections department, she didn't have too much trouble adjusting, but she's seen plenty of successful and unsuccessful ways of dealing with coworkers who aren't used to having women in the field.
"Women get harassed differently today than when I started but it's the same concept," Stokes says. "Back then, women took it on the chin. We knew we were the frontier women who had to create change."
Like with other professions, a growing female presence on jobsites has started to shift the general attitude toward women in the trades. Support from within the industry, such as that from groups like Amber Light Society, shows that women are making progress toward normalcy in the electrical field.
And, thanks to the growing demand for American electricians and other skilled workers, there are new opportunities for women to enter the trades and contribute to significant change across skilled professions.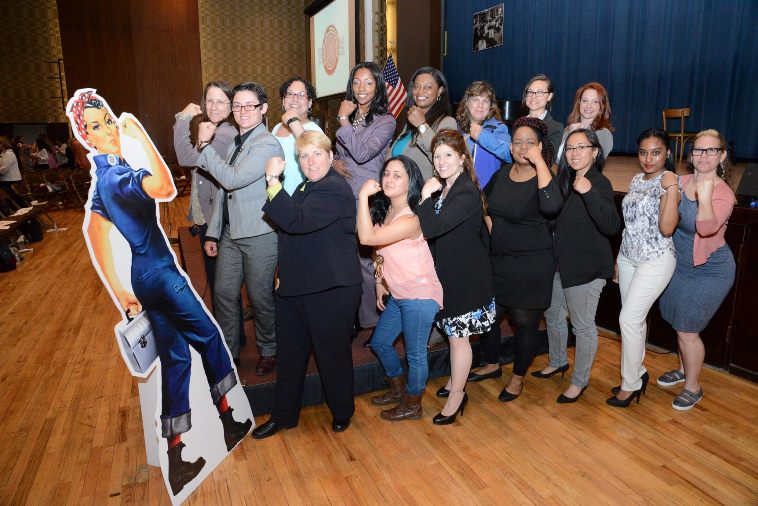 Members of Amber Light Society at the 2016 Women's Conference.
From Tradeswoman to Tradeswoman
As an instructor, Stokes has always makes sure to teach women that, regardless of what they encounter on the job, merit and skills will always win out against gender discrimination.
"Learn your skills. Learn your trade. Nobody can take that away from you," she tells the women who come through her training. "Once you learn circuitry, once you learn conduit bending, then you can talk trash with the rest of them."