Klein Crusaders Kick-Off the New Year with their #NewKleins
Posted on:
January 4, 2019
From professional achievements to personal growth, there sure is a lot to be grateful for while ringing in a new year. When the countdown to 2019 was underway, the Klein Tools family took time to celebrate innovation and American manufacturing, a tradition that dates back to 1857. As we look ahead to the future, our team continues to look for new jobsite solutions to help professionals get the job done right year after year.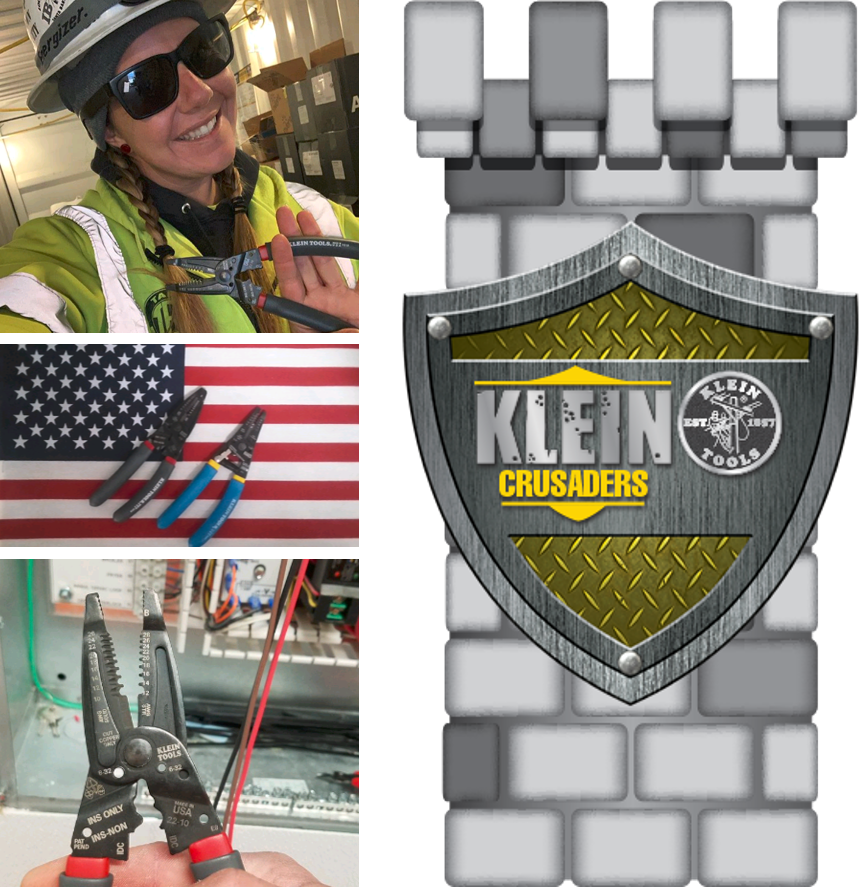 While it might not have been the first thing on these Klein Crusaders' minds come Jan. 1, being equipped with the right tools for the job is crucial for year-round success. Specifically, the Klein-Kurve® Wire Stripper/Crimper Multi-Tool (Cat. No. 1019) has proven to be many professionals' new go-to tool. Here is what some Klein Crusaders are saying about their #NewKleins.
Many tradespeople recognize that multi-purpose tools eliminate wasted time spent switching between tools. Well, Amanda was able to lighten up her tool bag because this new wire-stripper model also offers crimping capabilities. The tool's versatile features, such as the 6-32 and 8-32 screw shearers and precision cutting blades, help get a variety of tasks completed. And that's not to mention the wire looping holes, which Gary finds pretty handy!
Manos added the Wire Stripper/Crimper Multi-Tool to his tool bag right alongside the Solid and Stranded Copper Wire Stripper and Cutter (Cat. No. 11055). In this side-by-side comparison, he says, "They [the newer model] work real well and are convenient for the multiple sizes it strips." Still, both models reflect the high quality, U.S.-made products that users have come to rely on from Klein.
Check out what other users have to say at #KleinCrusaders on Facebook, Instagram or Twitter.
So, what IS Klein Crusaders?
Klein Crusaders is a new U.S. program, which gives active members of the Klein Tradesman Club – who match round-specific criteria – a chance to receive a FREE tool in exchange for contributing honest reviews to online sources. To increase your odds of participation in the next round of Klein Crusaders, send an email to KleinCrusaders@kleintools.com with your name and specialty within the trades.
Please note: at this time, Klein's Loyalty Rewards and Klein Crusaders programs are only available to U.S. residents. International followers, however, can register for the Klein Tradesman Club to stay up to date on new product information and participate in relevant surveys.
What #NewKleins have you recently added to your tool bag? Be sure to show off your Kleins on social media.