It Happens: Professionals' Accidental Durability Tests
Posted on:
October 6, 2017
From falls over 100 feet to extremely adverse weather – including hurricanes – we've noticed that professionals tend to inadvertently test the durability of their tools and devices. Recently, a few of our customers have admitted to conducting these unofficial durability tests with the Wireless Jobsite Speaker.
Do you think kicks, drops, 100-foot falls and a hurricane were enough to do it in?
Tower Proof
When Bill Parrish was working on building a communication tower, he accidentally kicked his Klein speaker, and down it went – 150 feet to the ground. After watching it repeatedly bounce off steel on its way down, he was unable to find the speaker for three, rainy days.
Bill was about to give up hope on ever finding it, but he decided to take one last look. Luckily, that last check allowed him to locate the speaker, but it was 4 inches-deep in the dirt, busted open and full of water. Not one to give up after finally finding it, he cleaned it up, dried it off and turned it on. Much to his amazement, the speaker still worked!

Bill's busted-back speaker still rocking after surviving 150-foot drop and three days in the rain.
"It's missing the back and has a few dents, but wow!" Bill says. "The speaker is drop-proof, waterproof, and TOWER GUY-proof!"
Similarly, Joey Rowell, a loyal Klein Tools user and veteran tower climber, made the mistake of dropping his wireless speaker from the tower top. It fell 100 feet and landed in an unforgiving patch of rough gravel. Joey not only was surprised to recover the speaker with minimal visible damage after a fall that far, but he also was shocked to see that it was still connected to his phone's Bluetooth®.
"It didn't have a scratch and it still sounds great!" Joey says. "You guys do really make some quality stuff!"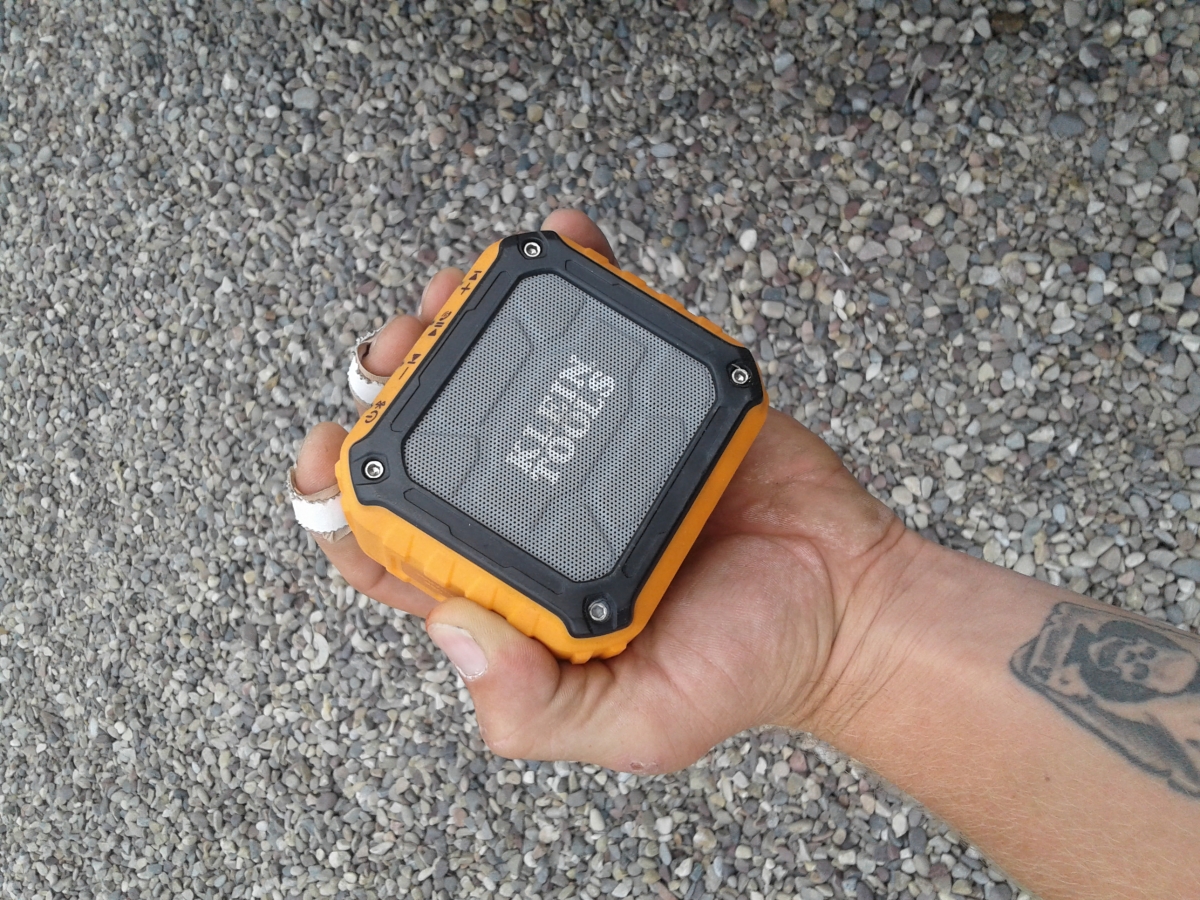 Joey's speaker looks untouched after a 100-foot drop into rough gravel.
Hanging in There
While preparing her yard for Hurricane Irma, Florida-resident Kelly Cantrell used the built-in magnet to mount her Klein wireless speaker to a metal pole so that she could listen to music while she worked. When she finished, however, she forgot to grab the speaker and bring it inside. After the hurricane had passed, Kelly went in her backyard to see it still hanging! Even after weathering forceful winds and rain the speaker still worked as well as the day she bought it.
"Moral of the story is that it stayed hanging, survived hurricane-force winds and rain and still works great!" she says.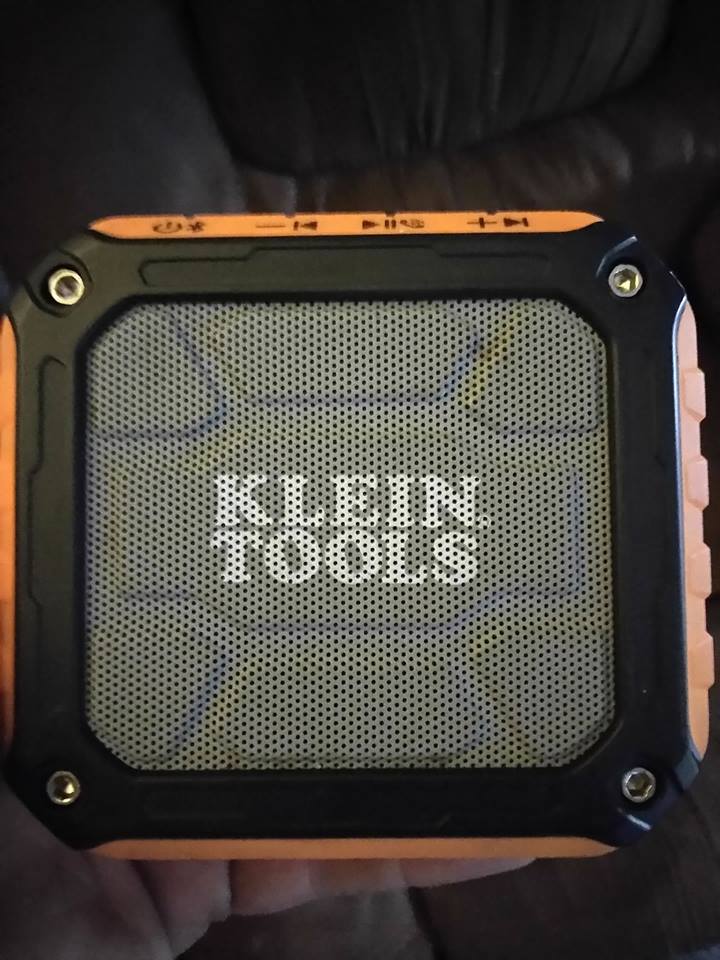 Kelly's speaker after weathering Hurricane Irma, the magnet still hanging on to the metal pole she left it on.
Being careful and safe is a priority, but with high-quality, durable Klein Tools products, minor blunders don't always have unhappy endings. And, while we don't encourage anyone to perform unofficial product tests, we appreciate hearing about when they out-perform your expectations!