How to Tackle an Electrician of the Year Nomination
Hut, Hut, Hike!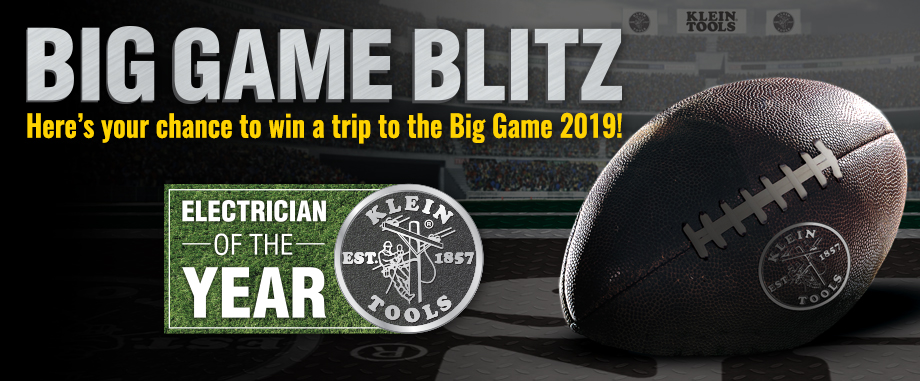 For the fifth year running, Klein Tools is honoring the MVP of electricians, and this year, we're kicking off the 2018 Electrician of the Year search with a blitz.
Every year, hundreds of nominees compete for the title of Klein Tools Electrician of the Year. But what's the key to winning?
The first step is to submit an outstanding nomination. We know our customers are skilled professionals who are dedicated to quality, safety and integrity day in and day out. Now it's time to tell us how you or someone else you know stands unrivaled on the jobsite.
5 Tips for Writing a Great Nomination
Be Specific: We receive hundreds of nominations for Electrician of the Year and the ones that catch our eye specifically address each of the following three criteria. This is your opportunity to brag on yourself a little, so don't hold back - the more details, the better!

For Professional Achievement: Tell us about awards you've won and why you won them. Tell us all about the solutions you've provided to help a job get done more efficiently or for less money. Did someone compliment or praise your work? Share their testimonials!
For Safety Excellence: Are you known as a safety advocate on your jobsite? Taken a lot of safety training courses? Discovered a safety hazard on the job and found a solution? Let us know!
For Community Dedication: This is a perfect place to be even more specific. Did you raise a large sum of money for a local charity? How? Did you use your electrical skills to help in the wake of a natural disaster, or lend a helping hand to those in need in your community? Tell us specifically what you did or continue to do to help! Did you coach a little league team to the championship? Do you help mentor teenagers or other passionate individuals interested in the trades? We want to know more about all of it!

Tell us about YOU: While we want you to be specific about your career accomplishments, we also want to know specifics about you, the person. We want to know how you became an electrician, what makes you love your job so much, why is safety important to you, what drives you to be involved in your community, and how do you spend your time off the jobsite? What drives you, motivates you, and brings you joy?
Include Pictures: You've heard the saying, "a picture is worth a thousand words." And that's definitely true in this case. Have you completed work that an OSHA inspector would be amazed by? Show us! Did you help construct a community center, host a car show fundraiser for your church, or lead a troop of adventurous scouts on a camping trip? We'd love to see it!
Have Someone Else Nominate You: We can all be our own worst critics, so while we accept self-nominations, you might want to consider asking someone else to write one for you. Many of our finalists were nominated by their children, siblings, spouses or co-workers. It may be awkward to ask, but they may be the best person to sing your praises. It's just like asking a colleague for a letter of recommendation.
Get Your Nomination in on Time (the earlier the better!): This may seem more obvious than the other tips, but in past years we've seen a mad dash of nomination submissions up to the last day of the nomination period. While we certainly want you to spend some time writing these up, we also don't want you to rush at the last minute to get something in. Nominations are open now and will close July 27th at 11:59pm CST.
Tackle your nomination today! For more contest details and how to submit a nomination, visit www.kleintools.com/eoy.