First Look: 2018 Electrician of the Year Regional Winners
Posted on:
August 10, 2018
The official title of Klein's 2018 Electrician of the Year is still up for grabs.
Klein Tools' selection team filtered through hundreds of nominations, focusing on professional achievement, safety excellence and community dedication. When the votes were counted, the following six individuals were named the 2018 Regional Winners. Here's an inside look at the halftime results.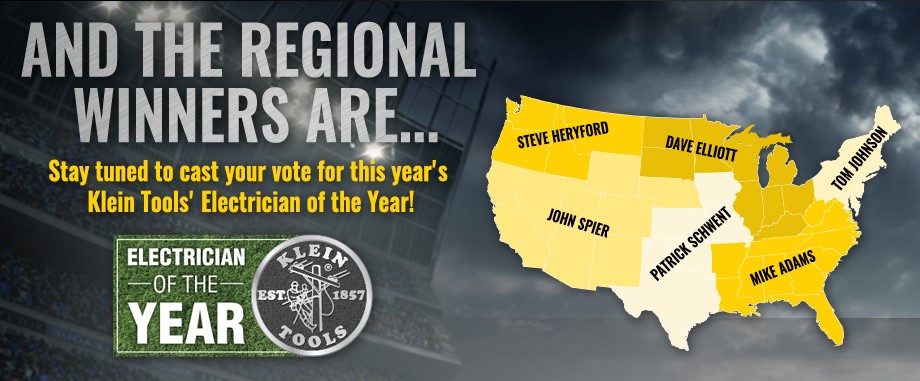 Steve Heryford – Region 1 Northwest
Steve Heryford started as an electrician's mate in the United States Navy and worked his way to becoming an electrical contractor and owner of his own business. Known for his quality repairs and high safety standards, he is the only electrician the local fire marshal and building inspector trust to work on their personal residences.
Heryford instructs at the local community college's electrical apprenticeship program, instilling his passion for safety in future electricians. When he is not playing the role of trusted electrician, he acts as high school basketball coach and referee.
John Spier – Region 2 Southwest
Not only is John Spier a project manager, service director, estimator and journeyman, but he is also a dedicated mentor to local apprentices. Spier serves on the Northern New Mexico Independent Electrical Contractors (NNMIEC) Committee, training apprentices from their first day on the job through the day they take their electrical licensing exam.
Spier has learned that the best practice to safety is to lead by example, enforcing strict but fair safety and security policies on all worksites. He always completes work thoroughly and with a smile and often receives praise from clients for the magnificent work he performs.
Dave Elliott – Region 3 Central-North
Dave Elliott manages all electric, HVAC, refrigeration and plumbing systems for 18 locations of a restaurant franchise, keeping 600 to 700 employees safe. Never cutting corners, Elliott ensures that every job is done right the first time. Elliott is proud to say that he and his co-workers have never been injured while on the job, keeping every restaurant up to code and beyond.
Elliott also volunteers his time to work for low-income families, community groups and local churches and is just a phone call away for a large number of younger electricians as they begin their careers in the trades.
Patrick Schwent – Region 4 Central-South
Patrick Schwent is known as the electrician with a great work ethic and superior quality of work who goes above and beyond on the job and for others. While placing quality as a priority, Schwent does all he can to meet code, often exceeding it. His commitment to safety is so well-known that county inspectors trust his work will always comply with state laws.
In addition to his work, Schwent also volunteers as a firefighter and chaplain for Missouri's Lincoln County Fire Protection District, where he leads the Jr. Firefighter program and teaches safety importance to the next generation.
Mike Adams - Region 5 Southeast
Mike Adams is a fourth-generation electrician with experience across many different jobsites. But no matter the job, Adams precisely plans every project and as an authorized OSHA instructor, puts safety first.
Adams devotes his spare time to teaching at Locklin Technical Center in Milton, Florida. This experience has allowed him to serve as a SkillsUSA advisor where his students have successfully competed at the state and national levels.
For the past 14 years, Adams has also served as a youth pastor and devoted his time to leading many youth and children's camps, truly demonstrating his passion for helping future generations.
Thomas Johnson – Region 6 Northeast
As a journeymen lineman, Tom Johnson, is devoted to both his trade and safety. Johnson is highly respected by his coworkers because he never allows shortcuts or dangerous mistakes to be made while on the job.
Since entering the field as an apprentice, Johnson and his wife founded the National Sisterhood United for Journeymen Linemen (NSUJL), a nonprofit organization dedicated to assisting fallen or injured IBEW Journeymen Linemen, Utility Linemen, Apprentice Linemen, Groundmen, Operators, LCTT and/or their families. His passion for the industry and his fellow tradesmen is evident through his devotion to his career and nonprofit organization.
Klein's Big Game Blitz: Play-by-Play
Though we're excited to announce these six tradespeople as Klein Tools' 2018 Electrician of the Year regional winners, the game doesn't end here. For your chance to have a say on who becomes Klein's next Electrician of the Year, make sure to cast your own fan vote* on Sept. 3-7.
After the fan voting period, the Klein selection team will review and score the regional winners and calculate the grand prize winner, selecting who will experience the 2019 Big Game without powering on their TVs. And finally, stay tuned Sept. 20 for the grand prize winner announcement via Facebook Live.
For more information on these winners, the Electrician of the Year award and the fan voting period, please visit http://www.kleintools.com/eoy.
*A Klein Tools selection team, consisting of five Klein family members, will use the fan vote as one of four selection criteria to choose the winner.