Brighten Your Day with Klein Tools
Posted on:
February 5, 2021
When we are in the middle of winter and the amount of daylight is limited, artificial lighting is more important than ever. Luckily, Klein Tools has a full range of lighting products, all with unique features to fit into whatever scenarios you may encounter. Take a look at some of the lighting options we offer and learn what lighting device is right for your needs.
Rechargeable Focus Flashlight with Laser
This rechargeable focus flashlight features and LED light with a twist focus bezel as well as a class IIIA red laser to pinpoint out-of-reach objects. The lithium-ion battery can run 12-hours on low of 125 lumens, or 6 hours on high of 350 lumens, and a battery gage notifies you when you nee to charge up via micro-USB cable (included). The flashlight is also IP54 water- and dust-resistant, making it a durable, reliable tool for active daily use.
Telescoping Magnetic LED Light and Pickup Tool
This tool allows you to grab any steel tool or part that may fall out of reach. The telescoping arm extends almost two feet and the gooseneck end allows you to reach around into hard-to-reach spots. The LED provides a bright light so you'll be able to easily find your lost tool even in low lighting.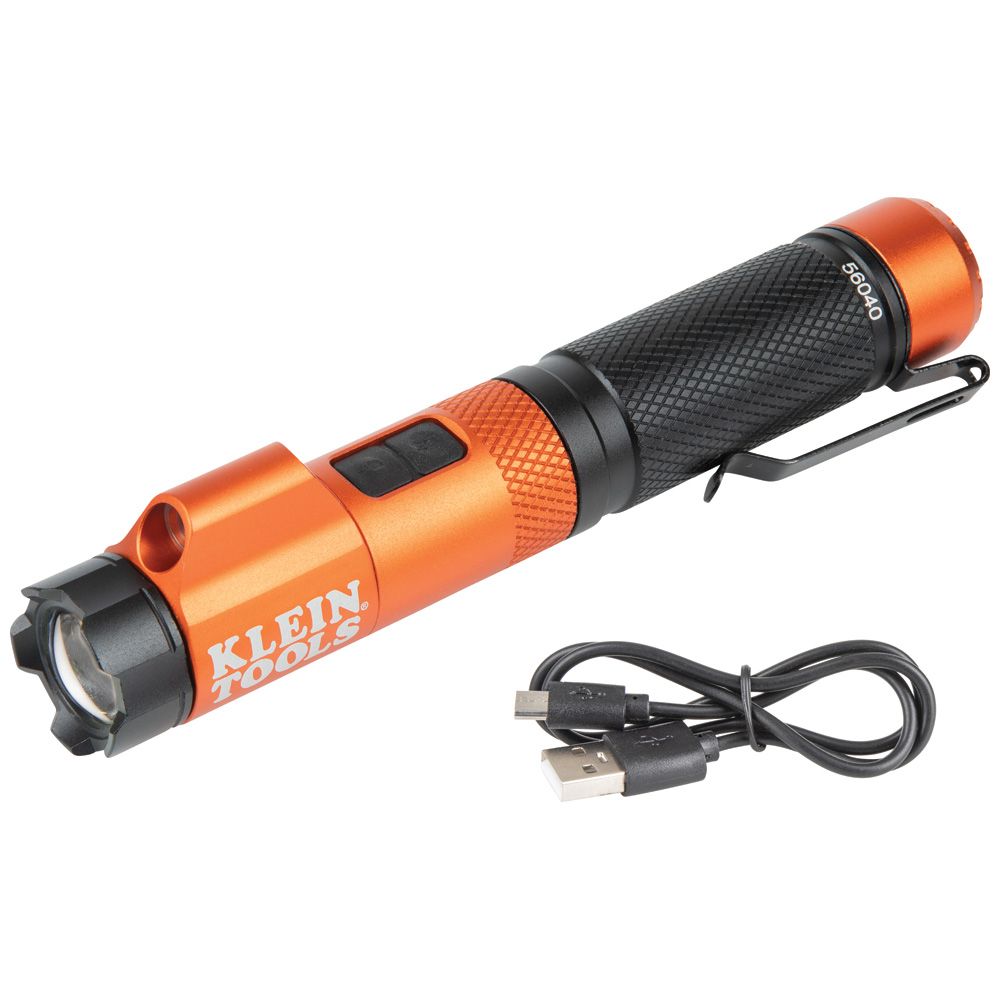 This compact LED light is perfect for your casual or work head gear. The contoured metal flip fastens easily onto the brim of a cap, hat or hard hat. The pivoting light head allows up to a 60-degree lighting angle, and the light can run on low for up to 8 hours. Plus, it is IP54 dust and water resistant and can withstand a drop of 10 feet, so it won't break if it gets bumped around.
Klein Tools has several different models of headlamps, all of which are meant to provide the versatility needed by trade professionals. The headlamps feature smartly designed brackets that mount directly to Klein Hard Hats, and some come with an adjustable fabric strap with silicone grip to secure the lamp to your head, hard hat or cap. Available in various brightness options, the headlamps have all-day runtimes and feature rechargeable batteries so you can easily plug it in at the end of your workday and be ready to go again the next morning.
Rechargeable Personal Worklight
This versatile light stands, hooks, hangs and mounts magnetically, making useful all over a jobsite! The head rotates 360 degrees, and the kickstand rotates 270 degrees, meaning no matter where it is places you have infinite light direction. The light is IP54 water and dust resistant, is built to withstand a 6-foot drop and can charge smartphones and other small devices via USB-A, making this light even more useful to have in your toolbox.
What kind of lighting works best for your jobsite? Let us know in the comments!