Klein "Cutlery"
We know you guys love our Cushion-Grip Bottle Opener, and who wouldn't? In fact, I'm planning to use mine when I get home from work tonight.
I'm also planning on busting out my brand-new Cushion-Grip Utensils and Steak Knives…Yep, you read that right. Now you can use Klein tools when you work AND when you eat!
Each set of Klein Utensils (Cat. No. 98002FSK) comes with a fork, spoon, and knife. The Klein Steak Knives (Cat. No. 98002STEAK) come in a set of 4.
These Utensils and Steak Knives are made of durable, rust resistant stainless steel. The Steak Knife blades are heat-treated and precision-ground to easily slice through even the toughest steaks! Each tool has Klein's classic Cushion-Grip handle that resists slippage and provides added comfort, plus a Tip-Ident® on each handle end allows for easy identification in your kitchen drawer or knife block.
The Utensils and Steak Knives are not dishwasher safe, but let's be honest. You were planning to hand wash these anyway.
AND these utensils and steak knives are proudly manufactured at our Klein Cutlery facility in Bolivar, NY!
The most exciting thing about these new Utensils and Steak Knives? For a limited time, you can get them for 10% OFF! Just go to KleinConnection.com and enter the code: APRILFOOLS...
We couldn't help but have a little fun on this April 1st…..and just to be clear, we are NOT making or selling Cushion-Grip Utensils or Steak Knives (yet?).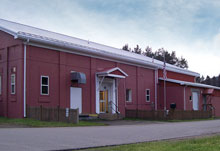 Bolivar, NY • USA
But we DO have a manufacturing facility in Bolivar, NY called Klein Cutlery. Klein Cutlery is actually the largest U.S. manufacturer of hot-forged scissors and shears.
They make some of the best quality electricians snips out there, but they also manufacture high-quality kitchen shears, carpet cutting tools, barber/pet grooming tools, and much more!
You can learn more about Klein Cutlery's history by clicking here.