As Classic as Your Favorite Football Jersey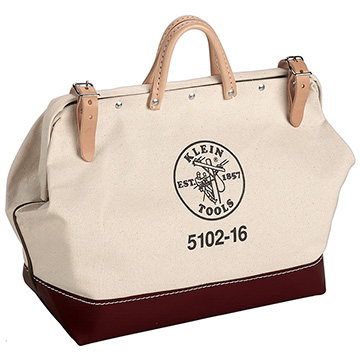 Klein Tools Canvas Tools Bags have held up for decades as a definitive representation of the quality and durability of the Klein brand. The minimalistic design featuring stitched and riveted leather handles, heavy duty natural canvas and a moisture-resistant vinyl bottom has allowed these tool bags to be durable and dependable for multiple generations of users. That is what Klein Tools Canvas Tool Bags represent: reliability and simplicity woven into one. Some of the greatest things in life are the ones that you don't have to think about, products that have a day-in, day-out dependability that sometimes goes unnoticed.
What may also go unnoticed are the classic good looks these tool bags possess. Whether it's the leather accents, the clean color arrangements, or the lineman's logo proudly and prominently placed front and center, there is something about these canvas bags that reminds me of a classic football helmet that you admire, even if it isn't the team you root for.
While I doubt fashion magazines are thinking of football when they write about these canvas bags, there has been a recent swell of fascination with Klein Tools canvas bags from some very unlikely sources. In the March issue of Harper's Bazaar magazine, Klein canvas and leather bags were listed under "Must-Haves" in an article titled "Fashionable Design." Possibly due to this endorsement, Klein bags have recently been featured on blogs to be used as carryalls. Hey, whatever works right? Can you imagine giving your wife or girlfriend a Klein bag as a gift, and watching in surprise and joy as her face lights up at the sight of a tool bag? While this scenario may seem like it belongs in some bizarro world, it may be more likely than you realize.
Of course, we all know that these tool bags belong on the jobsite or in your garage. The places Klein bags have called home decades. Whether you're proudly passing down your tool bag to a young Journeyman apprentice, or giving one to your wife as a present as you silently laugh under your breath, one certainly you can count on is that Klein Tools Canvas Tool Bags are a classic icon built to last a lifetime.