And the Finalists are...
Posted on:
September 17, 2015
With a custom truck on the line, it is no surprise that we were flooded with nominations for Klein Tools' Electrician of the Year.
But out of the nearly 600 nominations we received, six exceptional men emerged from the pack to become our regional finalists, one of which will go on to become our 2015 Electrician of the Year and win a 2015 Ford F-150 XLT Crew Cab customized by off-road specialists Addictive Desert Designs.
I just finished reading through each of the nominations we received for our finalists…and wow! Each and every one is the epitome of an electrician's commitment to professional achievement, safety excellence, and community dedication. All I can say is, the committee who is tasked with choosing the winner is going to have their work cut out for them!
Well, just see for yourself. Here are the six finalists for 2015 Electrician of the Year: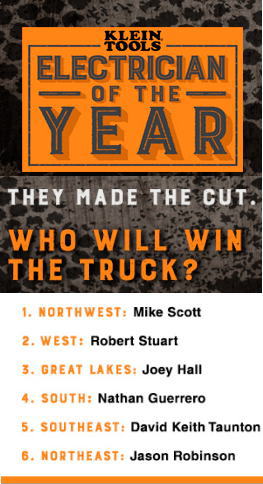 Region 1 "Northwest"
Mike Scott
Mike Scott is the sole employee of his cable system business in Friday Harbor, Washington. He has a passion for safety that has helped him achieve 15 years without any accidents. He says a zero tolerance safety policy means he will always make it home and that the people is working with know they will too.
In his spare time, he helps to install the city's holiday decorations and is currently working with the local American Legion to paint a large American flag on their retaining wall.
As a true fan, Klein gear tops his wish list for each birthday and special occasion. He loves the brand and enjoys sharing it with others.
My personal takeaway from his nomination: Mike told us, as a personal hobby, he enjoys artistic endeavors of all kinds. In fact, Mike says he stores all of his art supplies in Klein bags and totes. Even his kids keep their school supplies in Klein zipper bags.
Region 2 "West"
Robert Stuart
Robert Stuart has been a journeyman electrician for more than 18 years currently residing in California. His career began in high school where he worked as a part-time shop assistant before graduation. He then successfully completed his ABC Electrician Apprenticeship program and received his California Journeyman's Electrician license in 2003 and works for Strong Hold Engineering.
Robert is most proud of his work with large industrial electrical upgrades swapping rigid conduit and motor control centers during night outages. He appreciates the artwork of moving the coils and twisting them like a roller coaster. He also recently completed an installation project of Solar Photovoltaic Systems at Fort Irwin using new concentrated solar panel technology.
He credits safety with his success saying simplicity is the key. He also leads a daily safety briefing and role models good behaviors to his colleagues.
To give back, Robert volunteers with Apprenticeship 411, which conducts hands-on training, equipment demonstrations and seminars for 200 high school students teaching them about the electrical industry. He has also been an Assistant Scout Master with the Boy Scouts since 2006.
My personal takeaway from his nomination: It is clear Robert takes safety very seriously. I love this quote from his nomination: "To make safety work, it has to be simple," he says. "You've got to walk the walk. They mimic what you do. If you take safety seriously, then they will too. It's a vibe you build with your crew."
Region 3 "Great Lakes"
Joey Hall
Joey Hall of Somerset, Kentucky has owned and operated Diamond Electric since 1993 and he's been an electrician for more than 35 years. He is active in commercial, industrial and residential projects and most enjoys challenging work in the industrial sector with large local companies. He thrives on finding creative solutions for potentially dangerous or difficult problems. Former customers say Joey is a man who is committed to integrity, honesty and safety on the job site.
His company has a great safety record with only one workers' compensation claim in 22 years of business. Along with regular safety team meetings, Joey also insists all of his employees actively attend continuing education classes and first-aid trainings.
In his spare time, Joey volunteers with the local little league and helped build a brand new baseball facility for the community. He also leads a team in painting the high school football field for every home game. At church he helps provide food, clothes and health screenings to people in the area.
My personal takeaway from his nomination: Joey's integrity is what really stood out to me. In several instances, Joey was lauded for being straightforward, honest, and trustworthy. As one person put it, that kind of honesty is what separates the amateurs from the professionals.
Region 4 "South"
Nathan Guerrero
Nathan Guerrero is a journeyman electrician in Local 1141 in Oklahoma City, Oklahoma. He participated in local 1141 JATC and finished his apprenticeship in 2007. Since then, he has successfully completed several jobs including remodeling projects at a medical facility, new construction and wind farm work.
Nathan believes that no project is more important than safety and models that mantra every day. He has been safety certified by Devon Energy, Jindal Films, Nexterra and the Tinker Air Force Base. He served in the U.S. Army as a combat life saver, which he believes started his focus on safety.
In his free time, he is active in the local veteran community to support his fellow servicemen. He also has spent countless hours serving the community repairing storm damage and also assisting the elderly with cooling options during the hot Oklahoma summers.
My personal takeaway from his nomination: As someone who grew up in the South (tornado alley), I can very much appreciate Nathan's commitment to helping repair storm damage. I also very much admire and appreciate his service in the U.S. Army. H was a combat life saver and is definitely prepared to handle any situations where safety precautions have failed, but let's hope he never has to!
Region 5 "Southeast"
David "Keith" Taunton
David "Keith" Taunton from Cherry Log, Georgia has owned his electrical company since 2007. It began as a one-person company responding to house and service calls and has grown to being licensed in Georgia, North Carolina and Tennessee. The company services commercial and residential installations, but Keith's passion is green energy where he loves doing work on solar systems and LED projects.
Keith is committed to continuing education around safety and regularly shares with others what he has learned. Locally, he has a great reputation for work that is organized, neat and tidy.
He is always looking for ways to give back and donated all the labor and materials to building Kids Kottage, which helps abandoned and abused children. Keith also has a heart for the elderly and is always on-call to help respond to overnight outages or any of their needs to make sure they are comfortable.
My personal takeaway from his nomination: Aside from having the "cleanest work you'll ever see," David clearly cares about his community. We received a story about how David drove an hour to help an elderly lady who lost power in her kitchen one night. Turns out it was just a tripped breaker. Instead of just fixing it and charging her, Keith showed her what happened, how to fix it, and did all of that for free! The person nominating him said Keith, "does stuff like that all the time."
Region 6 "Northeast"
Jason Robinson
Jason Robinson of Derry, New Hampshire has been following his dream to be an electrician since high school. After his school stopped the electrical program his senior year, Jason went to the NH Board of Electricians to find a way where he could get that experience. After a little convincing, Jason was granted the ability to intern with Stellos Electric while still in high school. He attended the internship before school, went to school and then wrestling practice. He also began volunteering with Habitat for Humanity wiring new homes as a senior.
Today, Jason is a construction engineer and safety leader at BCM Controls. He also works as a consultant at Mass General Hospital. His passion for safety and excellence keeps him motivated to give weekly tool box talks and has recently given him the opportunity to start and manage an in-house electrical shop with his company.
Jason is known around town as the man with the biggest heart. He is always the first one to see and solve a problem, no matter how big or how small. Recently, he became president of the Boys and Girls Club of Greater Derry Wrestling Rebels where his priority is to find ways to raise money for those who can't afford to participate. He also manages a similar role with the Boys and Girls Club's Cal Ripken Baseball league to ensure no child is ever turned away due to lack of payment. He is constantly active in the community raising money and finding raffle prizes so that all children have a chance to play team sports.
My personal takeaway from his nomination: It's pretty clear that Jason has a heart of gold. He was nominated by his 12-year-old son and his wife. They both recounted MANY times where Jason went above and beyond to help those in his community, whether it was electrical work he could do, raising money to help the wrestling team, or even personally mentoring kids he has come in contact with. My favorite story was about the four eighth graders he mentored this year and how, among other things, he taught them to make chicken cordon bleu and steamed broccoli.
So, after reading all about our finalists, who would YOU pick as our 2015 Electrician of the Year?
We'll be announcing the winner at a special event on October 5th, where we will also be presenting the Electrician of the Year grand prize truck! So stay tuned for that!