Unmasking the Ins and Outs of a Haunted House
Posted on:
October 31, 2018
As thrill seekers tip-toe their way through a haunted house's blackened halls, the elaborate mechanics within each corridor create spine-chilling sensory experiences. This Halloween, creep alongside Klein as we unmask the ins and outs of a typical haunted house – goblins, gremlins and ghosts, oh my!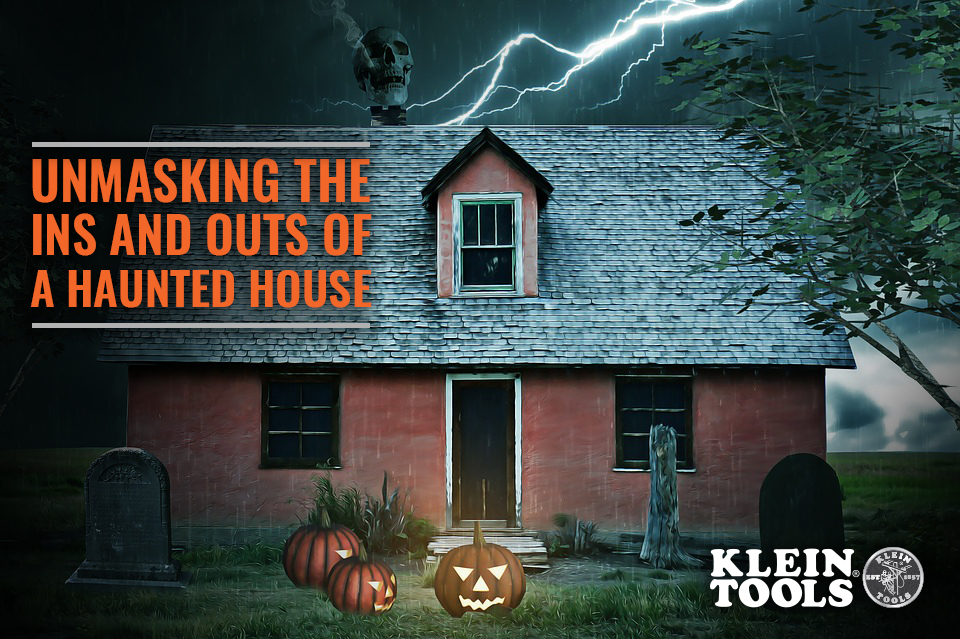 The door swings open right as you reach for the handle, which can only mean one thing – motion sensors. Even the smallest of movements radiate infrared energy, given off in the form of heat, and when turned into an electrical signal, well, these hauntings are intricately automated. As you continue through the maze, your every step triggers the next scare, casting widespread creepy-crawlies.
In the next chamber, FrankenKlein stirs awake, you didn't expect him to sleep through all those blood-curdling screams, did you? Plug your ears or close your eyes, and you'll notice everything is a little less scary. That's because the eerie lighting and sound effects transform this mundane room into a realistic laboratory, complete with bubbling beakers and horrifying experiments gone wrong.
You're running to the exit. Behind you, smoke fills in from wall to wall. The fog machine, and the air filtration system, are in full-throttle. What lurks in the shadows sends hair-raising chills. Hurry, get out before it's too late!
Hidden cameras allow the creative masterminds continue working behind the scenes to monitor any technical difficulties. You don't see it, but there's a lot of complex wiring and technical components powering each fright. The secret to the most haunted houses is these hard-working professionals who rig-up mystery and suspense like nobody has ever seen before.
We hope knowing these unseen inner workings help make your next haunting a little less scary. What other kinds of behind the scenes work have you been exposed to? Share your secrets with us on social media.
From all of us at Klein Tools – Happy Halloween!