Tradespeople Help Homeowners Deck the Halls
Posted on:
December 21, 2018
'Twas the night before Christmas, when all through the town, tradespeople were stirring, not ever slowing down.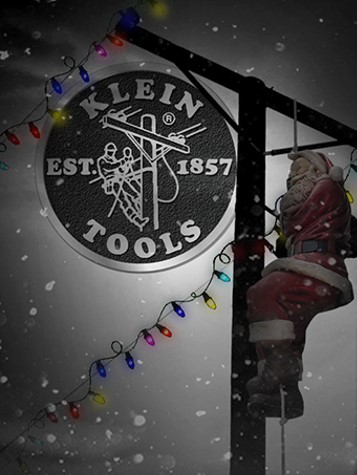 Even as families and friends gather to celebrate this holiday season, skilled professionals across all trades remain committed to getting the job done. Whether enabling greater power delivery or bringing the warmth, the water and watts of safety, tradespeople may just be the reason for the season. Here is the story about St. Nick's unsung elves – the hardworking professionals behind the world's festivities.
According to researchers and satellites at NASA's Goddard Space Flight Center, light intensity, as visible from space, increases by 30 to 50 percent during the holiday season (Black Friday-New Year's Day). When homeowners and businesses alike deck the halls for all to see, electricity usage greatly spikes. Electricians worldwide guarantee that electrical systems can keep-up with this overwhelming power delivery.
But there's much more to the holidays than strolling along Candy Cane Lane. When guests arrive, the first thing they want to do is hang up their jackets, gloves and scarves and get cozy … well, at least we hope so. HVAC-R professionals can perform annual maintenance checks to ensure proper functionality of temperature control systems. As guests come and go, automated smart thermostats can keep the house comfortable through and through.
The first snowfall brings along beauty and bliss, signaling the start of winter. The bitter temperatures can cause drainage disasters, however. Plumbers called to the scene can help homeowners prepare for the longest of winters by preventing frozen faucets and pipes.
Everybody knows Santa Claus has countless deliveries to make, and the last thing he needs is to be stuck in a broken chimney. Residential construction crews keep chimneys, as well as other household essentials such as insulation and sealing, in tiptop shape. If maintenance is required, make a call to your local contractor sooner rather than later.
These are just a few of the ways tradespeople help make the holiday spirit run true. Look around at home and in your community to observe other ways the trades make it all happen.
The holidays can be exciting, but through the hustle and bustle, keep these important safety tips close by to have the jolliest season of all. From the Klein Tools family to you and yours, "Happy Christmas to all, and to all a good night!"
What role do you play when it comes time for holiday prep? Share your experiences with us on social media.