Tips to Turn a Career in the Trades into a Business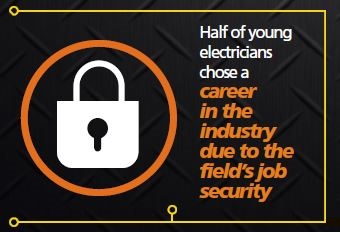 A career in the trades plays a vital role beyond just personal aspirations because the world's infrastructure depends on tradespeople for day-to-day maintenance. The benefits on an individual level, however, are still worth noting. According to Klein's "State of the Industry" survey results, half of young electricians chose a career in the industry due to the field's job security. On top of other benefits, such as the problem solving, technical and hands-on aspects of the job, the trades offer rewarding opportunities.
Despite practicing necessary safety procedures, completing tough tasks for years on the job – in harsh conditions, nonetheless – can start to take a toll on a tradesperson's body. That doesn't mean your time in the trades has to end; it might just be time for a change. Many tradespeople stay involved in the industry by opening the doors to their own business.
Whether a vocational training facility, electrical contractor, distributor or other organization, your next step in the trades starts with that same passion found years ago. Sure, starting a business brings about its own difficulties, but you, and your company, impact the community by providing valuable resources. Check out these tips from Klein Tools to help make your upcoming professional endeavor a success.
Build a trustworthy brand. Unfortunately, scammers have created a poor image for the trades, which means building a brand with integrity is that much more important. Customers will show loyalty to a company they can trust to provide needed services day after day. (We would know, professionals have trusted Klein Tools products for more than 160 years.)
Share your passion. Through the ups and downs, don't lose the passion that inspired you to enter the trades. Your business is an outlet to share your knowledge and experience. Find ways to reignite your own spark by mentoring rising professionals along the way.
Embrace technology. Technology has crept its way into almost every aspect of daily life. While opening a new business, this can offer great advantages. From setting-up appropriate cyber security to using social media to reach a greater audience, keeping various tech solutions handy will pay off.
Understand the risks. Although starting your own business sounds like an exciting idea, know that the journey isn't all fun and games. Budget for unexpected costs and plan ahead to allocate resources adequately. Overcoming these challenges makes the experience worthwhile.
Anticipate your customers' needs. Once you find a niche market to address, be prepared to support your customers however needed. Upsell additional services when appropriate to provide greater value and make the most out of every customer interaction. For example, if you're estimating costs for an expensive HVAC repair, suggest an energy-efficient upgrade that saves money in the long-run.
Never stop growing. Continual learning is an important aspect to any career, keeping work engaging day after day. Adapt to rising industry trends, whether that be new technology or new tools – you won't get bored, and as an added bonus, your company will stay relevant in the eyes of your customers.
The leap into the trades sparks a lifetime of passion with almost limitless opportunities and types of work. From designated apprenticeships to starting your own business, no matter where you are in your career, Klein Tools is proud of the work that you complete to get the job done.
What tips do you have for an entrepreneur looking to start their own business in the trades? Share your secrets to success with us on social media.